Entry posted by Bored ·
214 views
This year in college football there will be something called the BCS Championship Game or as I like to think of it, Fiesta Bowl II. It will match up the #1 and #2 teams in the BCS rankings and it will take place in the new Arizona Cardinals stadium which will be the new site of the Fiesta Bowl. It's not a bowl game but it'll be played at a bowl site the week after a bowl game was just played in it. It was the NCAA's lame compromise they came up with for those who want to keep the bowl tradition and those who want a tournament or "plus one" format without actually addressing any of the flaws with the current format. But after it was after the 1986 regular season in the Fiesta Bowl where arguably the first true National Championship game may have ever taken place.
The landscape of college football was very different 20 years ago as many big time programs besides Notre Dame were still independents. Florida State, Boston College, Virginia Tech, West Virginia, Pittsburgh, Syracuse, South Carolina, and others were all independents. Two other national powerhouse independents would emerge as the #1 and #2 teams in the country in Miami and Penn State. Since neither had a conference affiliation thus neither was required to go to a particular bowl game. This is where the Fiesta Bowl came in as unlike the other major bowls they were not aligned with any conference to take their champion thus there able to invite both of the nation's only undefeated teams. Miami were huge favorites with Heisman trophy winner Vinny Testaverde at quarterback, the Hurricanes beat their opponents by an average score of 38-12 during the regular season. Miami was the cockiest team on the planet at the time and infamously showed up to Tempe like this: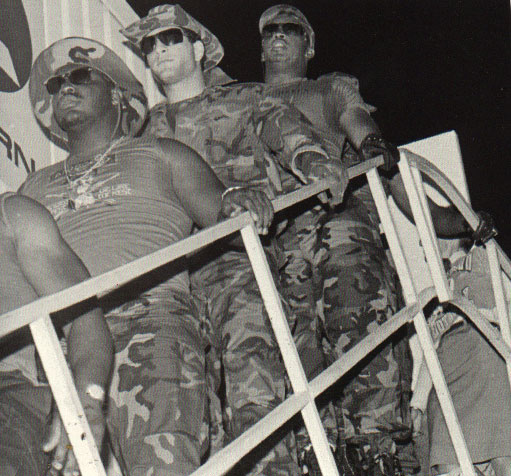 At a dinner to honor both teams the week of the game, the Hurricanes walked out of it. Jerome Brown was quoted as "Did the Japanese sit down and eat with Pearl Harbor before they bombed them?" You know equating yourself with the Japanese bombing Pearl Harbor has never been the smartest thing to say. But Penn State would upset Miami 14-10 to win an undisputed national championship, intercepting Testaverde five times in the game. Four years later Penn State would join the Big Ten and spark the move of several independents to join conferences.
One other thing 1986 was also the Year of the Boz, probably the greatest marketing ever of a college athlete ever. Oklahoma's All-American linebacker Brian Bosworth created a complete alter ego for himself known as The Boz and made himself the most recognizable player in college football. Oklahoma won the Big 8 title but Bosworth would be suspended from the Orange Bowl for testing positive for steroids.
Here are useless facts from 1986.
Preseason AP Top 20
1. Oklahoma
2. Michigan
3. Miami
4. UCLA
5. Alabama
6. Penn State
7. Texas A&M
8. Nebraska
9. Ohio State
10. Tennessee
11. Florida State
12. Baylor
13. Florida
14. Auburn
15. LSU
16. Georgia
17. Washington
18. BYU
19. Arkansas
20. Michigan State
Top 20 Reguarl Season Match-ups
Week 1
#1 Oklahoma 38, #4 UCLA 3
#3 Miami 23, #13 Florida 15
#5 Alabama 16, #9 Ohio State 10
Week 2
#14 LSU 35, #7 Texas A&M 17
#17 Washington 40, #10 Ohio State 7
Week 3
#4 Alabama 21, #13 Florida 7
#7 Washington 52, #11 BYU 21
Week 4
#1 Miami 28, #2 Oklahoma 16
#5 Michigan 20, #20 Florida State 18
#12 USC 20, #6 Washington 10
Week 5
#11 Iowa 24, #17 Michigan State 21
#16 Arizona State 16, #15 UCLA 9
Week 6
#12 Washington 24, #18 Stanford 14
Week 7
#4 Michigan 20, #8 Iowa 17
#10 Arizona State 29, #15 USC 20
#11 Texas A&M 31, #20 Baylor 30
Week 8
#6 Penn State 23, #2 Alabama 3
#7 Auburn 35, #13 Mississippi State 6
Week 9
#1 Miami 41, #20 Florida State 23
#7 Arizona State 34, #6 Washington 21
#8 Alabama 38, #19 Mississippi State 3
#17 Ohio State 31, #11 Iowa 10
#18 USC 20, #14 Arizona 13
Week 10
#18 LSU 14, #6 Alabama 10
Week 11
#17 Arkansas 14, #17 Texas A&M 10
#10 Washington 17, #19 UCLA 17 tie
Week 12
#3 Oklahoma 20, #5 Nebraska 17
#14 Arizona 34, #4 Arizona State 17
#6 Michigan 26, #7 Ohio State 24
#18 UCLA 45, #10 USC 25
Week 13
#14 Auburn 21, #7 Alabama 17
Bowl Games (MVP)
California: San Jose State 37, Miami of Ohio 7 (Mike Perez)
Independence: Mississippi 20, Texas Tech 17 (Mark Young)
Hall of Fame: Boston College 27, #17 Georgia 24 (James Jackson, Georgia)
Sun: #13 Alabama 28, #12 Washington 6 (Cornelius Bennett)
Aloha: #16 Arizona 30, North Carolina 21 (Alfred Jenkins)
Gator: Clemson 27, #20 Stanford 21 (Rodney Williams)
Liberty: Tennessee 21, Minnesota 14 (Jeff Francis)
Holiday: #19 Iowa 39, San Diego State 38 (Mark Vlasic)
Freedom: #15 UCLA 31, BYU 10 (Gaston Green)
Bluebonnet: #14 Baylor 21, Colorado 9 (Ray Berry)
All-American: Florida State 27, Indiana 13 (Sammie Smith)
Peach: Virginia Tech 25, #18 N.C. State 24 (Erik Kramer, N.C. State)
Rose: #7 Arizona State 22, #4 Michigan 15 (Jeff Van Raaphorst)
Citrus: #10 Auburn 16, USC 7 (Aundray Bruce)
Cotton: #11 Ohio State 28, #8 Texas A&M 12 (Chris Spielman)
Orange: #3 Oklahoma 42, #9 Arkansas 8 (Spencer Tillman)
Sugar: #6 Nebraska 30, #5 LSU 15 (Steve Taylor)
Fiesta: #2 Penn State 14, #1 Miami 10 (Shane Conlan)
Final AP Top 20
1. Penn State
2. Miami
3. Oklahoma
4. Arizona State
5. Nebraska
6. Auburn
7. Ohio State
8. Michigan
9. Alabama
10. LSU
11. Arizona
12. Baylor
13. Texas A&M
14. UCLA
15. Arkansas
16. Iowa
17. Clemson
18. Washington
19. Boston College
20. Virginia Tech
All-Americans
QB
Vinny Testaverde, Miami
RB
Brent Fullwood, Auburn
Paul Palmer, Temple
Terrence Flagler, Clemson
Brad Muster, Stanford
WR
Cris Carter, Ohio State
Wendall Davis, LSU
Tim Brown Notre Dame
TE
Keith Jackson, Oklahoma
OL
Jeff Bregel, USC
Randy Dixon, Pittsburgh
Danny Villa, Arizona State
John Clay, Missouri
Ben Tamburello, Auburn
Jeff Zimmerman, Florida
Chris Conlin, Penn State
Dave Croston, Iowa
Paul Kiser, Wake Forest
John Elliott, Michigan
Randal McDaniel, Arizona State
Mark Hutson, Oklahoma
Harris Barton, North Carolina
John Phillips, Clemson
DL
Jerome Brown, Miami
Danny Noonan, Nebraska
Tony Woods, Pittsburgh
Jason Buck, BYU
Reggie Rogers, Washington
Tim Johnson, Penn State
LB
Cornelius Bennett, Alabama
Shane Conlan, Penn State
Brian Bosworth, Oklahoma
Chris Spielman, Ohio State
Terry Maki, Air Force
DB
Thomas Everett, Baylor
Tim McDonald, USC
Bennie Blades, Miami
Rod Woodson, Purdue
Garland Rivers, Michigan
John Little, Georgia
Gordon Lockbaum, Holy Cross
Mark Moore, Oklahoma State
K
Jeff Jaeger, Washington
Marty Zendejas, Nevada
Jeff Ward, Texas
P
Barry Helton, Colorado
Greg Horne, Arkansas
Bill Smith, Mississippi
Greg Montgomery, Michigan State