World Series DVDs: Game 4
Entry posted by Bored ·
249 views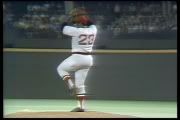 1975 World Series Game 4 - Red Sox 5, Reds 4 (boxcore and play account)
-The Cincinnati crowd audibly groans when starter Fred Norman gets behind 2-0 to the first batter of the game. Man, tough crowd.
-The announcers throughout the series have been talking about the possibility of Rico Petrocelli retiring after the Series. He'd retire after the following season.
-Announcers do a promo for the reunion of Simon & Garfunkle on Saturday Night Live that week.
-The video quality is very good for the first six innings and then in the 7th goes to shit. It's such a dramatic change that for a second it almost seems like it's a completely different game.
-They show Luis Tiant's wife a few times and she's waving some giant noise maker and the announcers say she does it for every game during the entire game. Now why didn't the crowd around her rise up and slay her, I have no idea.
-In the 9th inning Tony Kubek thinks Tiant is at almost 200 pitches. Errr not quite. He did throw 163 pitches which is a lot of fucking pitches. Given his shutout in Game 1 and another complete game victory here he was definitely the MVP of the series so far. He even has a couple hits and runs scored in the series although he was just a .164 career hitter.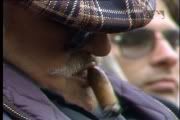 1979 World Series Game 4 - Orioles 9, Pirates 6 (boxscore and play account)
-Once again no network graphics for this game which is getting annoying. This game was played on a Saturday so they run a bunch of college football scores during the game which would have been kind of neat to see, if only to me. Cosell seems more excited about reciting the scores to the college games than this game itself.
-They hype the Red River Shootout game which was to follow the telecast of Game 4. Texas beat Oklahoma 16-7, the Sooners only loss of that season.
-It's mentioned that the Pirates and Tim Foli have agreed on a new five-year contract. He'd spend just two years of the contract there as he was traded to the Angels after 1981. In Game 3 and this game the Pirates fans do a "Foli, Foli, Foli" chant. I'm not aware if Tim ever lost part of his ear during a game or landed on some thumbtacks while diving for a groundball.
-In this series and the '75 Series there are several check swings that in today's game would always be called strikes that are almost always called balls here. There must have been some rule change or evolutionary change in how umps call check swings in the last 30 years. In the Orioles huge 8th inning Doug DeCinces checks his swing on a two strike pitch that 99.9% of the time would been called a strike in today's game but is called a ball here without question. He would draw a walk and be followed by pinch hit doubles by John Lowenstein and Terry Crowley.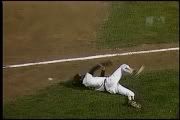 1986 World Series Game 4 - Mets 6, Red Sox 2 (boxscore and play account)
-A potential great storyline never happened in this series as Tom Seaver would have been the Game 4 starter here for the Red Sox but an ankle injury caused him to miss playoffs. Jerry McNamara decides to go with Al Nipper and his 5.38 ERA here instead of having Bruce Hurst on three days rest. Nipper was solid in this game though and the Red Sox missed several opportunities against Ron Darling who didn't give up an earned run in his first two starts.
-The crack researchers at NBC note that Danny Heep, who was at DH for the Mets, is the first DH in World Series history with the initials DH. God I hope that doesn't end up on his tombstone.
-Lenny Dykstra's homerun in the 7th goes off Dwight Evans glove. They compare it to Dave Henderson's play in Game 5 of the ACLS where a Bobby Grich flyball went out of his glove and over the wall for a homerun but this wasn't nearly as bad. Evans had it on his webbing and it would have been a snow cone job if he caught it. If he timed his jump better he would have had it.
-Classic series or not, the last three games haven't been very competitive.