Notre Dame DVDs: Catholics vs. Convicts
Entry posted by Bored ·
52 views
A while back I mentioned that during some post-Christmas giftcard shopping I made an impulse buy purchasing a DVD box set titled College Football's Greatest Games: University of Notre Dame Fighting Irish Collector's Edition. Even though I'm not a Notre Dame fan I purchased the set due to it being the only one if it's kind out there for college football and it was released by A&E Home Video who did the World Series box sets that I've done write ups for. Now since the set is geared torwards Notre Dame fans it does contain some games that are far from "great" but are important in Notre Dame history. Here's the game list:
1966 vs. Michigan State - "Game of the Century" (2nd Half only)
1977 vs. USC - "Thee Green Jersey Game"
1978 vs. Texas - Cotton Bowl
1979 vs. Houston - Cotton Bowl
1988 vs. Miami - "Catholics vs. Convicts"
1989 vs. West Virginia - Fiesta Bowl
1992 vs. Penn State - "The Snow Bowl"
1993 vs. Florida State
The USC, Texas, and West Virginia games are not good games. The USC game is just there for it being the first game the Irish wore green jerseys and the Texas and West Virginia wins wrapped up their last two national championships. The other five games are all true classics. I don't know if I'll do a write up for them all but the one game I definately wanted to watch was the infamous "Catholics vs. Convicts" game.
On a side note I did purchase both the 1977 and 1987 World Series box sets but don't know when I'll get around to doing write ups for them.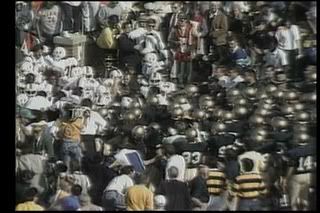 October 15, 1988 - #1 Miami (4-0) at #4 Notre Dame (5-0)
-Miami carried a 36 game regular season winning streak into this game and a 16 game winning streak overall with their last loss coming in the infamous 1987 Fiesta Bowl to Penn State. Quarterback Steve "Better Than Troy Aikman" Walsh had yet to lose as a starter.
-This game took place the same day as Game 1 of the World Series that year between the A's and Dodgers or as I call it the "Worst Day in Sports History."
-The opening package by CBS is fantastic as they play it up as a battle of old school, Notre Dame, vs. new school, Miami. To this day I think the opening montage to CBS' college football coverage in the late 80's and early 90's was the best in sports. Brent Musberger and Pat Haden have the call.
Miami Offense
QB: Steve Walsh
RB: Cleveland Gary, Leonard Conley
WR: Randall Hill, Dale Dawkins
TE: Rob Chudzinski
C: Bobby Garcia
G: Mike Sullivan, Barry Panfil
T: Darrin Bruce, John O'Neill
Notre Dame Defense
NG: Chris Zorich
DT: George Williams, Jeff Alm
DE: Arnold Ale, Frank Stams
LB: Wes Pritchett, Mike Stonebreaker
CB: Todd Lyght, Stan Smagala
S: George Streeter, Pat Terrell
Notre Dame Offense
QB: Tony Rice
RB: Anthony Johnson, Mark Green
WR: Steve Alaniz, Ricky Watters
TE: Derek Brown
C: Mike Heldt
G: Mike Brennan, Joe Allen
T: Andy Heck, Dean Brown
Miami Defense
DT: Russell Maryland, Shane Curry
DE: Greg Mark, Bill Hawkins
MLB: Bernard Clark
OLB: Randy Shannon, Rod Carter
CB: Donald Ellis, Kenny Berry
S: Bobby Harden, Bubba McDowell
-Loooove looking at the old score updates as the game is going on. Wyoming ranked #14!?
FIRST QUARTER
-Frank Stams forces Walsh to fumble on the opening possession and Notre Dame recovers near midfield, although I'm not so sure it was a fumble. Stams hits Walsh's shoulder as he cocks to throw but the ball doesn't come loose until Walsh starts moving his arm forward and looks like it should have been ruled an in complete pass. Irish don't take advantage though and go three and out.
-Ironically enough on Miami's second possession, Stams hits Walsh again with the ball coming loose before Walsh's arm goes forward and this time it's called an incomplete pass. Pat Haden agrees with both calls for what that's worth.
-Miami's new head coach for 2007, Randy Shannon is a starting linebacker for the Hurricanes here.
-Rocket Ismail is just a freshman at this time and isn't a starter but makes his presence known early with a 22 yard reception on Notre Dame's second possession to convert the first of four 3rd down conversions on the drive. Tony Rice scores the first touchdown of the game on an option keeper from seven yards out.
-Musberger calls Walsh one of the best 3rd down college quarterbacks ever seen. Of course that very next play he throws an easy pick to D'Juan Francisco for Miami's second turnover in their first three possessions. Very next play after Walsh's interception, Russell Maryland forces Rice to fumble to turn the ball back over to Miami.
SECOND QUARTER
-Miami ties the game on a Walsh eight yard touchdown pass to Andre Brown.
-Rice hits Ismail on a 62 yard bomb down to the Miami 25. Ismail juggles the catch and stumbles to the ground or otherwise he would have taken it the distance as he beat Bubba McDowell who misjudged the ball and jumped too early trying to pick it off. Drive concludes with nine yard touchdown pass dump off to fullback Braxston Banks on a 3rd down to put Notre Dame back up 14-7.
-Miami quickly advances past midfield on their next possession but Frank Stams continues to be a beast in this game as he tips a Walsh pass that is picked off by Pat Terell who takes it 60 yards for the touchdown. The Irish were looking like they could potentially blow out Miami at this point in the game.
-With the departure of Michael Irvin and Brian Blades, Hurricanes were really lacking at wide receiver here as Walsh's most effective target is Cleveland Gary out of the backfield. That being said Miami moves the ball almost exclusively through the air in this one as they couldn't get anything on the ground against the Notre Dame defense.
-On the score updates during the game, Vanderbilt beat #20 Florida 24-6 and it notes that Florida hasn't won at Vandy since 1966. That trend has just kind of changed the last couple of decades.
-On 4th and 4 on the Notre Dame 23, Miami goes for it and Walsh hits Leonard Conley in the flat with no Irish defenders around him and takes it the distance to get Miami back in the game.
-Notre Dame plays it conservative near the end of the half and goes three and out. Miami gets good field possession but Walsh nearly throws another pick six on the first play of the drive as his intended receiver doesn't look for the ball coming and Todd Lyght almost picks it off with no one in front of him to prevent him from taking it the distance. Miami moves quickly from there ending with Walsh hitting a wide open Gary from 15 yards out with 21 seconds left in the half to tie it up, 21-21. Gary already had seven catches for 88 yards.
THIRD QUARTER
-On the opening possession, Rice throws a wounded duck that is picked off by McDowell. Miami proceeds to give the ball right back on a Conley fumble on their first play of the half.
-Notre Dame moves into field goal range on the next possession but McDowell blocks the field goal attempt by Billy Hackett. It was a 43 yard attempt into the wind so probably would have been a miss as it is.
-Miami can't move the ball on their next possession and Jimmy Johnson gambles with a fake punt, with the direct snap to the upback but Notre Dame stuffs it and gets the ball on the Miami 46. On the very next play Rice hits Ricky Watters for a 44 yards gain and Pat Eilers runs it in for the score from there to put the Irish back up 28-21.
-Notre Dame's short ranger kicker Reggie Ho jumps up and down like an idiot after every successful extra point. Musberger mentioned earlier in the game that he's missed a few so guess wasn't always a guarantee it'd go through for him, thus the reason to celebrate.
-Miami drives to the Notre Dame 25 but Walsh throws his third interception of the game as lineman Jeff Alm makes a leaping interception on a dump off attempt to one of the backs.
-Notre Dame marches to Miami 11 before their next drive stalls and they settle for a Ho field goal to extend the lead to 31-21.
FOURTH QUARTER
-Miami had come back from 30-14 deficit with five and a half minutes to go against Michigan earlier in the year in Ann Arbor to win 31-30.
-Miami moves quickly to down inside the Notre Dame 10 but the Irish hold and force Miami into a Carlos Huerta field goal to trim the lead to 31-24.
-Near disaster on the ensuing kick off as Ismail has a brain fart and badly misplays the kick but falls on it back at their own 11. Notre Dame then later in the drive almost has another huge misplay on a 3rd and short as Rice makes a bad pitch to Watters that he can't handle, the ball gets kick around all the way back to the 24 before the Irish recover to avoid giving the Hurricanes great field position.
-Now we reach the big controversy about this game. With about seven minutes to go Miami goes for it on a 4th and 7 from the Notre Dame 11 and converts on Gary's 11th reception of the game but as he tries to dive for the goal line he supposedly fumbles and the Irish recover at the 1. Looking at the replay it looks fairly clear that A) his knees hit the ground, B) the ball had broken the plane of the endzone before it came loose, and C) the ground caused the fumble. The only thing I'm unsure of is if his knee hit before he crossed the plane but at the very least should have been First and Goal at the 1. Pat Haden completely agrees with the officials yet again and Musberger doesn't protest. Jimmy Johnson to say the least is not pleased.
-You can't stop Frank Stam, you can only hope to contain him. On Miami's next possession he forces another Walsh fumble, this one legit, and the Irish recover on their 28 with 3:30 to go. It was Walsh's fifth turnover of the game, seventh turnover overall by the Hurricanes. Walsh would throw for 424 yards in this game but obviously gets completely overshadowed by the turnovers.
-They go back to the controversial Gary "fumble" and Haden says he was bobbling the ball before he it the ground which again the replay doesn't show any of what he supposedly sees. Even though Haden played at USC, Miami was the most hated team in college football at the time so I got the impression watching this game Haden really wanted to see Miami lose.
-Shannon sacks Rice on 3rd and long, forcing a fumble, and Miami recovers on the Notre Dame 15 with 2:14 to go. Great, entertaining game but god damn has it been sloppy.
-Hurricanes immediately face another 4th and 7 from the Notre Dame 11. This time there is no controversy as Walsh hits Brown for the touchdown to make it 31-30 with 45 seconds left in the game. Since we're still several years away from overtime in college football Miami decides to go for two. Walsh tries to hit Conley in the corner of the endzone but it is deflected away by Terrell. Miami probably would have kept their #1 ranking if they settle for the tie, especially since they were on the road, but it would have been quite the pussy move at the same time to do so.
-Notre Dame recovers the onside kick and runs out the clock to hand Miami their first regular season loss in over three years. The Irish ran the able from there on their way to their last national championship to date.