'85 Bears DVDs: Super Bowl XX
Entry posted by Bored ·
188 views
Today is monumental day...it's My Two Year Blogoversary!
My first entry talked about the first ever live sporting event I ever went to, an A's/Red Sox game. Now that I finally have received the 1985 Chicago Bears boxset I can now do write up for the oldest sports memory I have, watching Super Bowl XX. This is the only reason I could ever have to re-watch this snuff film of a football game.
Here's the list of the 12 games that are in the set.
Week 1 vs. Tampa Bay
Week 3 at Minnesota
Week 4 vs. Washington
Week 5 at Tampa Bay
Week 6 at San Francisco
Week 7 vs. Green Bay
Week 11 at Dallas
Week 13 at Miami
Week 16 at Detroit
Divisional Playoff vs. N.Y. Giants
NFC Championship vs. L.A. Rams
Super Bowl XX vs. New England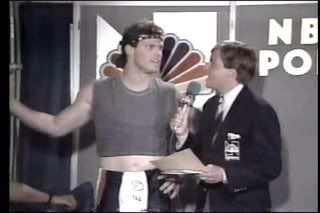 January 26, 1986 - Super Bowl XX: Chicago Bears (17-1) vs. New England Patriots (13-5)
-Woo hoo, the player introductions are on the disk! Seriously fuck the 2001 "Oh We're a Team!" New England Patriots for ending this tradition. Back in the day they always introduced the NFC offense which seemed inappropriate in this game as the Bears defense really should have been introduced. Judging by the reaction of crowd during the introductions it seemed like their were more Patriots fans at the game.
-Coin toss features the previous 17 Super Bowl MVP winners and even Joe Montana showed up this time. Majority of them didn't seem thrilled to be there. Joe Namath got the biggest reaction and I wonder if a 21 year old Suzy Kolber was watching the game.
-Dick Enberg and Merlin Olsen are the announcers with Bob Griese making some cameos.
Bears Offense
QB: Jim McMahon
RB: Walter Payton, Matt Suhey
WR: Dennis McKinnon, Willie Gault
TE: Emery Moorehead
C: Jay Hilgenberg
G: John Thayer, Mark Bortz
T: Keith Van Horne, Jim Covert
Patriots Defense
DE: Garin Veris, Julius Adams
NT: Lester Williams
OLB: Andre Tippett, Don Blackmon
ILB: Steve Nelson, Larry McGrew
CB: Ronnie Lippett, Raymond Clayborn
S: Roland James, Fred Marion
Patriots Offense
QB: Tony Eason
RB: Craig James, Tony Collins
WR: Stanley Morgan, Stephen Starring
TE: Lin Dawson
C: Pete Brock
G: John Hannah, Ron Wooten
T: Brian Holloway, Steve Moore
Bears Defense
DE: Richard Dent, Dan Hampton
DT: Steve McMichael, William Perry
OLB: Wilber Marshall, Otis Wilson
MLB: Mike Singletary
CB: Leslie Frazier, Mike Richardson
S: Gary Fencik, Dave Duerson
FIRST QUARTER
-Walter Payton fumbles on second play of the game and the Patriots recover on the Bears 20. This would be the high point of the game for the Pats. The misery begins for the Pats as tight end Lin Dawson blows out his knee on their first play from scrimmage. Three straight incompletions would lead to a Tony Franklin field goal for the first points off the Bears in the playoffs.
-After Don Blackmon drops a possible pick six on the Bears first play of their next possession, McMahon nails Gault for a 43 yard bomb. Their drive stalls near the Patriots 10 after Ronnie Lippett lands a heels over head hit on a McMahon scramble and Kevin Butler ties it up 3-3. What a competitive game we have!
-Both teams exchange punts and then the game tilts the Bears way for, well, the rest of the game. Steve "Former Four Horseman" McMichael sacks and forces Tony Eason to fumble, recovered by Dan Hamtpon on the Pats 13. On the next play McMahon completes a drag screen pass to Emery Moorhead and on the play Merlin Olsen insists there was clip by Dennis McKinnon on Blackmon. They show two replays showing Blackmon being hit in the front of his legs which would make it a legal block but Olsen says "Look, right in the back of the legs! You can't tell me that's not a clip!" It wasn't Merlin. Dick Enberg pauses like he wants to disagree but just ignores him and moves on. Olsen continues to rant on about the play a couple of plays later. Sounded like someone had money on the Pats.
-William Perry makes his first appearance on offense on 2nd and Goal with a halfback option pass but The Fridge can't get rid of it and is dropped for a loss. Another Butler field goal makes it 6-3 Bears. New England is hanging tough!
-Richard Dent forces a Craig James fumble on the Patriots next play from scrimmage and the Bears again get the ball inside the Pats 15. Two plays later Matt Suhey takes it in to make it 13-3.
-Patriots total yards: -19
SECOND QUARTER
-After another Patriots punt the Bears easily move through a quickly tiring Patriots defense, mainly behind Matt Suhey. McMahon takes it himself from two and a half yards (video quality suddenly went bad during the play) to make it 20-3 and the rout is on.
-Ron Rivera made a tackle on the next kick off and I only mention it because he was at my D.A.R.E. "graduation" in the 5th grade as our "celebrity speaker."
-After another Patriots three and out, Eason gets the hook for Steve Grogan. Eason finished the day 0 for 6 and was sacked three times. Grogan completes a couple of passes on his first possession and the Pats get their first, first down of the game with less than four minutes left in the first half but it doesn't lead to anything.
-Bears make a late march that features a 28 yard completion Ken Margerum to set up another Butler field goal to make it 23-3. Maybe doing an entry on this game was a bad idea as I've completely lost interest at this point as I'm sure I did at 7 years old.
-Patriots total yards: -19. Grogan allows them to break even for the quarter.
THIRD QUARTER
-As they recap the first half before the second half kick off Olsen is still bitching about the correct non-clip call on what wasn't even a crucial play, not that there was any crucial play in a game like this.
-Even when things go right for the Patriots it doesn't pay off. Punter Rich Camarillo gets off an ugly kick that takes a fortunate bounce on the Superdome turf and rolls all the way down to the Bears 4 yard line. But on the Bears first play of the half McMahon hits Gault on another bomb for a 60 yard gain. This would eventually lead to another McMahon touchdown keeper to make it 30-3.
-And the slaughter continues as on the Patriots next drive Grogan throws behind his intended receiver Derrick Ramsey, the ball glances off Ramsey's hands and right to Reggie Phillips who takes it for a 28 yard interception return touchdown and a 37-3 lead.
-22 years later and I'm starting to feel sorry for the Patriots in this game. Next "drive" Grogan completes a pass to Dedrick Jones near midfield but he is immediately hit by Gary Fenick, fumbles and Wilber Marshall recovers it. It didn't look like a fumble to me as Jones only appeared to have one foot down before being hit but I can't remember if the rules for possession were different back then. Instant Replay wasn't implemented until the following season.
-A "Walter" chant starts as everyone wants to see him a score a touchdown in this game but alas that would not happen. After a terrible call on a "completion" to Dennis Gentry where he didn't even get one foot in bounds, this drive would feature The Fridge's famous touchdown. I seem to remember reading that later Mike Ditka regretted not having Payton take it in for the score at this point in the game. 44-3.
-God dammit there's still another hour left on the disk, even without commercials.
FOURTH QUARTER
-Bears did start to call off the dogs a bit towards the end of the 3rd as the Pats finally get a sustained drive but it takes a 4th and Goal touchdown pass to Irving Fryar (who was playing with a laceration on his finger that he got during a fight with his wife a couple of weeks earlier) to get in the endzone, 44-10 Bears. I smell a comeback!
-The scoring ends when Henry Waechter sacks Grogan in the endzone for a safety. Bears 46, Patriots 10.
-It's mentioned towards the end of the game that Buddy Ryan has been offered the Philadelphia Eagles head coaching position.
-Richard Dent wins the MVP but I have to say he didn't really standout to me over any other player on the Bears defense during this game but maybe I wasn't paying close enough attention.
-The postgame trophy presentation and interviews are on the disk but the video quality isn't particularly good.
-Lord knows why I ever watched another football game again.