World Series DVDs: Game 1
Entry posted by Bored ·
156 views
I've finished watching Game 1 from each DVD so as I mentioned before I'm taking little notes while watching each game. Of course as i read some of my notes I'm not even sure what I intended on bringing up. Of course I won't go over every detail of the game as there is no point.
Interesting to note that for all three of these World Series that the winner of Game 1 was the team that ended up losing the series. Backs up Al's entry on playoff odds on how Game 1 is the least important game.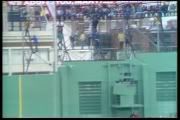 1975 World Series - Game 1 - Red Sox 6, Reds 0 (boxscore and play account)
-Announcers for Game 1 are Curt Gowdy, Dick Stockton, and Tony Kubek. Stockton was not a network announcer at this time as he was the local t.v. announcer for the Red Sox. They will be rotating announcers during the series as there will be a Reds announcer for Game 2. I guess this must have been common in the 70's as I remember watching Game 7 of the '73 Series on ESPN Classic a few years ago and old A's announcer Monty Moore was doing the play-by-play.
-Secretary of Treasury William E Simon threw out the first pitch. The crowd was shockingly unexcited by this.
-When Pete Rose is up in the first it is amusing how they bring up him being a huge fan of the game and always knowing what's going on in other games. If only they knew at the time why he was doing that.
-They say Johnny Bench has 50 foul ball homeruns in 1975. Now that sounds like bullshit to me. Who'd even keep track and how do you truly determine if a foul ball would have been a homerun?
-Why you can never predict the future: Bring up the great future of Reds starter Don Gullett who's career would end just three years later at age 27 due to shoulder problems.
-Joe Morgan sure did whine a lot to umpires when he played, not that I'm surprised.
-Kubek suggests that umpires should all be under one umbrella instead having seperate umps for A.L. and the N.L. which wouldn't change for another 20 years.
-God damn Sparky Anderson was only 41 in 1975? He already looked to be in his 60's.
-Luis Tiant started for the Red Sox and he was a lot fun to watch pitch...with no one on base. When someone was on base he is incredibly slow going to the mound.
-I had heard that was problems with the older stock footage and it shows up in the 6th inning as the audio suddenly is about five seconds ahead of the video and doesn't synch up again until the bottom of the 7th, thankfully when the biggest action of the game happens. The Red Sox scored all six runs in that inning.
-BULLPEN CART~!
-Gowdy does a promo for the first ever Saturday Night Live hosted by George Carlin that was to debut that night.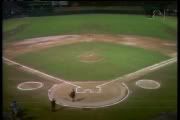 1979 World Series - Game 1 - Orioles 5, Pirates 4 (boxscore and play account)
-Announcers for the series are Keith Jackson, Howard Cosell, and Don Drysdale.
-As you see in the picture the field is absolutely ripped to shreads and good example of why it's for the best that muti-purpose stadiums are almost now a thing of the past. It didn't help matters that Game 1 was rained the night before and it snowed over night. Game time temperature was 41 degrees and it most likley dipped below freezing by the end of the game. Many of the players just look miserable out there.
-Oh ya the black tops with yellow pants for the Pirates was not a good look. Although the Orioles orange unis would make a decent third jersey today.
-Pirates starter Bruce Kison came into the game 4-0 with a 0.41 ERA in his career in the postsason. He'd get knocked out after just recording one out in this game as the Orioles scored all their runs in the first although it was broken open by a bad throw by Phil Garner at 2nd.
-Not much of surprise that Cosell really brings nothing to the telecast except name dropping athletes who he had dinner with. One story that amused me was he brings up that he ran into Mike Flanagan's wife in Montreal and saying that she was visiting Flanagan's former teammate Ross Grimsley. Maybe it was just the general sleaziness of Cosell but the way he tells the story it almost sounds like he Flanagan's wife was cheating on him with Grimsley.
-They talk about Dave Parker's house and car being vandalized early in the season by fans because he signed a huge contract before the season. Yes how dare the defending MVP get paid! Anyone gone after A-Rod's house yet?
-Speaking of Paker I remember when he was with the A's towards the end of his career having a huge gut but here there is no sign of one. Guess cocaine is indeed slimming.
-Holy crap does ABC go overboard with showing player's wives. I should have kept count but I'd say they showed about 15 different players wives. Did the world really need to see Jim Rooker's wife? I'll give Doug DeCinces the award for having the hottest wife of the night although it was slim pickings. Everyone knows the groupies are hotter.
-I'm doubting Drysdale's analyst skills as in the bottom of the 8th Orioles second baseman Rich Dauer gets on base and Drysdale thinks he should steal. Jackson and Cosell both correct him pointing out that Dauer didn't steal a base all year. Nice research there Donny.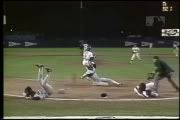 1986 World Series - Game 1 - Red Sox 1, Mets 0 (boxscore and play account)
-Announcers for the series are Vin Scully and Joe Garagiola.
-In the top of the first Garagiola brings up the Red Sox not being known for manufacturing runs. Now if this were Joe Morgan or most other ESPN anlysts this would be said with much disdain and followed by a mini-rant on why that doesn't work. But here Garagiola says it without being condescending and says it's worked for the Red Sox all year.
-Early in the game Scully brings up that he's surprised the Mets haven't tried to drag bunt down to first to take advantage of Buckner. How about a ground ball?
-It really is painful watching Buckner run as he has to hobble with every step.
-I didn't know Dwight Gooden had a gold cap on his front tooth. Don't think he wore it when he pitched.
-They mention that Darryl Strawberry was 0 for 45 in the August that year in Shea Stadium. Hmmm you think he was booed at all that month?
-In the 5th inning Scully mentions that there is a Mets pitcher who hates throwing to first base but he doesn't want to give that name away because he doesn't want to give a scouting report to the Red Sox. Maybe it was naive but it was kind of refreshing. Garagiola does get Scully to say the pitcher's name the following inning, that being Sid Fernandez.
-What everyone forgets about this series is the way the Red Sox won Game 1 on a play eerily similar to the final play of Game 6. In the 7th with Jim Rice on 2nd, Rich Gedman hits a ground ball to 2nd and it goes right through Tim Teufel's legs. Rice comes around and scores the only run of the game. There is a bizarre play at the plate which is what that screencap is of. When Rice comes home, Ron Daring goes to back up the throw at the plate while Dave Henderson tries to get into position to signal Rice to slide. The two don't see each other and completely wipe each other out. Both appear to be injured but both stay in the game.
-NBC producer's have a sense of humor as during Red Sox starter Bruce Hurst at bat in the 7th, they flash a graphic saying that Hurst has struck out in every at bat in his career. It was the first game he'd ever hit in. He struck out a 3rd straight time here.
-Red Sox manager John McNamara does in the 8th inning here what he didn't do in Game 6, replace Bill Bucker at first base with Dave Stapelton. Stapelton would make a play in the 9th inning on a Ray Knight bunt to get the lead runner at 2nd that there would have been no way for Bucker to have made the play and it possibly prevented the Mets from tying the game.