World Series DVDs: Game 2
Entry posted by Bored ·
147 views
I've finished watching Game 2 of all three series so here are some of my notes.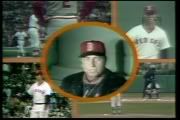 1975 World Series Game 2 - Reds 3, Red Sox 2 (boxscore and play account)
-This game is incomplete on the disk. Apparantly the top of the 2nd is missing from the film archives. Thankfully it was just a 1-2-3 inning for the Reds.
-OBP gets it's first notice I think in all three of the series here although it's referred to as "on base average" as they have a graphic when Joe Morgan is up mentioning that he led the league in that category although the announcers don't mention it.
-They hype several times during the game a feature Sunday Night special NFL game between the Raiders and Chiefs that was following the game. Chiefs beat the Raiders 42-10 that night.
-Morgan continues his whining from Game 1 here and even tries to fake getting hit by a pitch in the 6th by claiming the ball grazed his jersey and then pitched a fit when they wouldn't give him the base. Replays show it didn't hit him. Two games of watching him and I'm already hating him as a player. I took joy in him getting thrown out trying to steal in the 7th right after Tony Kubek said he probably shouldn't be stealing with Johnny Bench up. SMARTBALL~!
-Speaking of SMARTBALL~ this game ended up being decided on what Joe would refer to as "manufacturing runs" but was really more luck than anything. With the Red Sox up 2-1 going into the 9th, Bench led off with a double. Tony Perez would hit a soft ground ball to short which allowed Bench to move to 3rd which I'm sure Perez was trying to do. George Foster would pop up to left, which was not deep enough to score Bench. Then with two outs Dave Concepcion hits a slow chopper up the middle that Red Sox second baseman Denny Doyle has to eat and allows Bench to score the tying run. Ken Griffey would double next to give the Reds the lead. Just think if Concepcion hits a line drive right at Doyle, the Red Sox would have been up 2-0, maybe won the series, and saved the world from being subjected to Fever Pitch.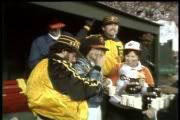 1979 World Series Game 2 - Pirates 3, Orioles 2 (boxscore and play account)
-The graphics are missing from the footage of this game.
-I forgot to mention this in the Game 1 notes but sitting right directly behind home plate in both games is that John 3:16 guy who wore a rainbow colored wig. Never holds up any John 3:16 sign here though. What's funny here is that ABC puts a camerman right directly in front of him during this game to try obstruct the view of him. You never once see a shot from the behind homeplate so clearly the camera wasn't turned on.
-ABC thankfully cut back on the number of player's wive shots in this game but they do show Ken Singleton's wife for the first time and she knocks out Doug DeCinces' wife for the hottest wife of the series.
-Several Pirates have stars on their caps that were given by Willie Stargell during the season which were called "Stargell's Stars." Bert Blyleven, who started this game, had none. Man fuck Willie. Even by his peers Blyleven was undervalued. They'd play an interview with Blyleven before the game and it's brought up how baseball writers didn't think he could win a big game.
-The announce during the game that J.R. Richard had signed a four-year contract to stay in Houston rather than test the free agent market. It would be that following year when he'd have his stroke.
-Sorta like game Game 2 of '75 this game ends up being won on some fortunate bounces. Game was tied 2-2 going into the 9th, with two out Pirates catcher Ed Ott hit a groundball to 2nd which takes a bad hop right before Billy Smith can field it and it bounces away from him. Phil Garner would walk and then Manny Sanguillen hit a pinch hit single that would be the game winner.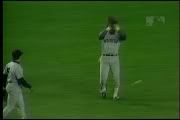 1986 World Series Game 2 - Red Sox 9, Mets 3 (boxscore and play account)
-I can't even imagine the hype that when into this game as it was a match-up of Roger Clemens vs. Dwight Gooden which was about as epic of a pitching match-up you could get in 1986. As you can tell just looking by the score it didn't live up to the hype although they did have to follow up a 1-0 game. Neither pitcher had much of anything going for them in this one.
-Howard Johnson started at 3rd for this game in place of a slumping Ray Knight which ironically enough Dickhead Knight would end up being the World Series MVP.
-The Mets were just crushing Clemens but every deep flyball they hit seemed to die at the track. You knew it wasn't their night by what happened in the 4th and 5th. Dave Henderson led off the 4th with a homerun for the Sox. Then in the bottom of the inning Darryl Strawberry and Howard Johnson both hit balls that looked like and sounded like homeruns when they left at the bat but both barely stayed in the park. Davey Johnson then decideds not to pinch hit in the inning for Gooden, who was already looking bad at that point, and then top of the 5th he gives up a two run shot to Dwight Evans.
-It's kind of tough to tell in the screencap but in the bottom of the 6th some fan threw a ball at Jim Rice while he was catching a flyball.
-Strawberry struck out twice in each of the first eight postseason games.
-Everytime I here Scully say "a little roller up along first" I expect the next words to be "BEHIND THE BAG! IT GETS THROUGH BUCKNER!"
-Interesting to note that in this series and the '75 Series not once has the word "curse" come up yet. I really wonder if the "curse" nonsense didn't really pick up steam until after this series. Forgetting what happened in Game 6 it's amazing when you think about that the previous year the Royals became the first team ever to lose the first two games in the World Seires at home and comeback to win the series. What were the odds that the same thing would happen two years in a row after never happening before? The Red Sox had to feel good about themselves at this point and this particular game wasn't even as close as the score indicated.