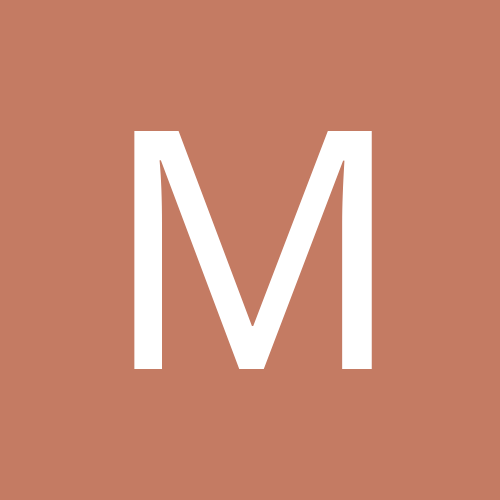 Content count

5614

Joined

Last visited
Everything posted by MillenniumMan831
MillenniumMan831 replied to Hunter's Torn Quad's topic in TNA Wrestling

It wasn't even as if the MEM were deceitful. They did leave the building. They were outside in the loading dock or wherever. I'm guessing the Frontline were busy doing shots at the corner bar.

And followed it up seconds later w/ a Jung Dragons shoutout. No DJ Gabriel this week? I wish pre-Attitude Vince was around to commentate these shows. It would have been a ball to hear him announce the Miz-Morrison/Funaki-Wang match.

MillenniumMan831 replied to Hunter's Torn Quad's topic in TNA Wrestling

I'd like to see Hernandez acknowledge that's he not quite ready for a title shot just yet. LAX can amicably split up while Hernandez forces himself to move up the ladder. Dispatching the Bashirs and the Kute Kips before moving onto singles matches w/ guys like Storm/Roode before feuding w/ the MEM. From there, Hernandez is established as a serious singles threat as he dicks around w/ MEM for a couple months before finally accepting his title shot. Maybe have him actively turn down chances to capitalize on a wounded Sting since he wants Sting (or whomever is champ) and himself to both be at their respective peaks before cashing in.

MillenniumMan831 replied to PILLS! PILLS! PILLS!'s topic in The WWE Folder

I still wait for the day when they call up someone from FCW who couldn't care less about his "spot" to come in and immediately start hazing JBL as if he's the newbie.

Never say never: Jumping Bomb Angels - Stand In The Shadows A special thx for this theme goes out to CraigUK and WrestlingMedia.ws. If you take this theme please give credit to Craig and his page. Holy fuck! Thank you!!! The track sounds great.

MillenniumMan831 replied to The Truthiness's topic in TNA Wrestling

I'd feel bad for the grizzled veteran Snow if they had him fall for that one. Not to say he won't.

And Weekly Update #2 for the month has been plopped on WWE.com Legacy: Raw: Episode 57 April 4, 1994 | Approx. run time: 43 mins. Get ready for WrestleMania re-matches this week on Raw. First, Adam Bomb challenges Earthquake. Can Earthquake defuse Adam Bomb for a second time in a row? Also, the 10-Man tag from WrestleMania X that didn't take place will happen on Raw. The Headshrinkers tag with Jeff Jarrett, I.R.S. and "The Model" Rick Martel to face Tatanka, Sparky Plugg, The Smoking Gunns and the 1-2-3 Kid. Finally, we'll hear from Mr. Perfect as to why he screwed Lex Luger out of the WWE Championship. Stay tuned because December 15th another episode of Raw airs on WWE.com Legacy Wrestling Challenge: Episode 25 February 22, 1987 | Approx. run time: 40 mins. WrestleMania III is only a few weeks away and the stars that made the show memorable are on Wrestling Challenge! You'll see interviews with Roddy Piper and Hulk Hogan as well as matches with Ricky "The Dragon" Steamboat and The Junkyard Dog. Plus The Honkytonk Man is the guest on the Snake Pit. You don't want to miss this episode of Wrestling Challenge. Stay tuned because December 15th another episode of Wrestling Challenge airs on WWE.com Legacy Wrestling Hot-Beds: Michigan December 8, 2008 | Approx. run time: 53 mins. It might be a little chilly this time of the year, but all your favorite Superstars from Michigan are featured on this month's edition of Wrestling Hot-Beds. From The Steiner Brothers to Kevin Nash to Zach Gowen nobody is left out. And don't worry; we'll get a little warmer next month as we head down to Florida for Hot-Beds. Introducing: The Honkytonk Man December 8, 2008 | Approx. run time: 4 mins. WWE.com Legacy has an exclusive for you this month you can't find anywhere else. The Honkytonk Man sits down to discuss his debut in WWE. Was the master of shake, rattle and roll nervous during his first match? What are his thoughts on the fans initially booing him? After the exclusive interview with "the Greatest Intercontinental Champion of all time" enjoy The Honkytonk Man's debut. Bonus Feature: Exclusive never before seen interview with The Honkytonk Man. From the 9/28/86 ep of Challenge . . . HTM vs Terry Gibbs Starrcade - Carlos Colon vs. Abdullah The Butcher November 24, 1983 | Approx. run time: 5 mins. Although Carlito and Primo's father Carlos Colon spent the majority of his career wrestling in Puerto Rico, he did compete in both the NWA and WWE from time to time. The following video features Carlos Colon battling Abdullah the Butcher in a match banned from Puerto Rico. Watch carefully as a certain Spanish announcer makes his presence. The following video is rated TV-14: Parental Discretion Advised. Primetime Wrestling - Fabulous Moolah vs. Wendi Richter June 11, 1985 | Approx. run time: 5 mins. Every month WWE.com Legacy goes into the vaults to find a classic women's match. This month we go back to one of the first episodes of Primetime Wrestling as Hall of Famer, Fabulous Moolah, tries to claim the Women's Championship from her foe Wendi Richter. Who will leave Women's Champion? Match is JIP from Maple Leaf Gardens 5/26/85 Raw - The Rock vs. Bret Hart March 31, 1997 | Approx. run time: 11 mins. It's a double dose of wrestling families in this match. The Rock defends the Intercontinental Championship against Bret "Hit Man" Hart. The Rock was still a rookie in WWE and Bret Hart was willing to do anything to win a match. Will the championship change hands or can The Rock pull an upset against the Excellence in Execution? AWA Wrestling - 6-Man Tag January 31, 1986 | Approx. run time: 12 mins. While Curt Hennig is best known as being Mr. Perfect, he found a lot of success in the AWA. Watch Hennig shine in this classic six-man tag from the AWA. Curt Hennig, Scott Hall, & Greg Gagne vs Nick Bockwinkle, Ray Stevens, & Larry Zbyszko from Superclash I 9/28/95 As a sidenote, the archive thread has been updated.

Cause when The Wildfire gets crazy, IT BE CRAZY TIME! 288 Pounds!

I know this is a theme that probably isn't available anywhere, but what the hell . . . does anyone have the theme of the Jumping Bomb Angels? I know it's a ripoff of Billy Idol's "Do Not Stand in the Shadows".

My mom has always hated it. She's never waivered to that. My dad thinks it's pretty dumb but he would watch a segment or two of the Nitro replay when he'd wake up at like 3-4am in the morning before work. He does respect it as a business. They were nice enough to take me to a house show or two per year when the WWF would run at the Richfield Coliseum in the 1980s-90s even though I could tell they couldn't wait for the night to be over (not that they made it too obvious or anything like that). EDIT: On a very rare occasion of my dad and I watching Smackdown together in 2002ish I believe it was Rikishi who stripped Billy/Chuck/Rico down to their thongs. MUCH to my surprise, my dad chuckled his ass off at this. He was trying to stifle his laughter but he couldn't help it. He thought it was the funniest thing this side of Seinfeld.

Rome has to be relieved. and no doubt he'll express his relief via playing the same five soundbites ad nauseum As long as he keeps away from the Maury Povich drop, it's alright.

I hope thats some sort of sick joke that you want Brian Billick. I will not accept Cowher but I'll take Billick. Yeah, it's desperation talking. Look at those wacky Browns call a TO as Tennessee is about to score.

The Browns have been to the playoffs once in the 90s and once in the 2000s . . . I'll take it.

Eh, I'd prefer Billick but I wouldn't mind giving Marty a roll.

Now that I've gotten over my disappointment in the Browns, I'm finding them more and more humorous every week. 40+ yard catch in bounds by Cleveland called out of bounds. Challenge? Nah 4th down Cleveland down 12 points w/ 8:00 to go. Go for it? Nah

Here ya go: http://wmsdrm.wwe.com/jukebox/122008/drm-1...beds_sd_750.wmv It's not really supposed to be posted until the 8th, but I jimmied the link from last month to reflect this month and presto change-o.

Yeah, it's not like Hogan actually drew any significant money in his career . . . except for the fact that he did.

The Fink is kind of like a 12 year old mark when he does these lists. Workrate takes a backseat to the overall spectacle of the match in many cases. Personally, I had a good chuckle or two watching the Clowns R Us vs Royal Family match. And . . . Wrestling's Hot Beds: Michigan WWF Tag Titles - Steiner Brothers vs Heavenly Bodies (SumSlam93) Zach Gowen vs Matt Hardy (No Mercy 2003) George Steele vs Tiger Chung Lee (Boston Garden 8/3/85) WWF Championship - Bret Hart vs Diesel (KOTR94) RVD vs Rey Mysterio (WWE vs ECW Special)

As soon as I saw the Next Generation, I thought of the Mooney/Hayes skits on CV's Invasion 92. I have no idea what that will be. Maybe a 2 hour special about Ariel Rose McMahon-Levesque. I believe ECW Legacy will be a bi-monthly show. Saw the Muta/Anderson match. It was fine but I don't know, I must have been expecting a truly awesome match and it just wasn't that. They just don't gel all that well. Hey, I can rhyme any ol time. For anyone interested, I added the links to the Raw/Challenge/Hotbed eps that are to be added on 12/8 to the archive thread. Geez, the Von Erichs were dicks during that lumberjack strap elimination title match. The booking of that one made me wonder if Ken Mantel was Russo's uncle or something like that. If there weren't enough stipulations, Fritz/Mike kept strapping the hell out of the Freebirds just for being near the ropes or on the apron (no matter if they were legally in the match or not). Even when Fritz was kicked out, he was totally unapologetic about it. If it wasn't for the deaths of the Von Erich boys, it would have been an awesome angle to have Fritz turn on his 'pretty boy punk' kids and align w/ the Freebirds to teach them a lesson or something like that. Fritz was a natural heel from the limited WCCW I've been able to see.

MillenniumMan831 replied to Thanks for the Fish's topic in The WWE Folder

They did? I was always under the impression they were making him annoying on purpose so they could smoothly transition him as a full-fledged heel.

Yeah, it's the first time they've done it in over a year. It looks like Challenge is running at a skimpy 9 minutes this week. Hopefully that gets fixed . . . come to think of it they never did reupload the Wild Card match from SurSer95. EDIT - Challenge is working now.

Funny you should mention that: http://www.wwe.com/subscriptions/247online/familyfeuds/ Click "View Schedule" and voila.

If there was ever a move worthy enough for the WWE production staff to flash CRITICAL! on the screen, it'd be Show's moonsault. I know Show busted out a rope assisted kip up in 1997 in a match from Nitro against Curt Hennig.

That was a pretty solid SNME. A fun battle royal w/ Hercules blatantly eliminating himself after Hogan's dumping. Plus, Hart/DiBiase was pretty awesome and I'm a mark for Tito Santana matches (seems like he was in almost every SNMEs around this time). I was surprised Nickelback's Elton John cover was actually cheaper to use then the original SNME theme from that time: http://www.youtube.com/watch?v=bZk4SKjLsps I'd have preferred Def Leppard's "Saturday Night (High & Dry)" myself.