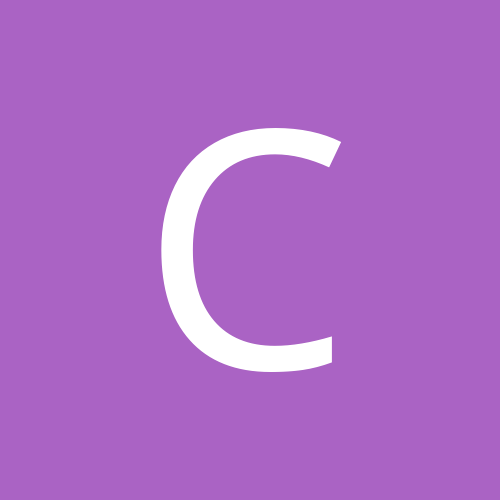 Content count

6456

Joined

Last visited
Everything posted by Corey_Lazarus
Mmmmm...structurally reminds me of Justice, as far as how the riffs themselves are, song is standard Metallica structure...not a bad link between the old and more recent stuff.

Dagon was pretty good. That's based on "Dagon" and "Shadow Over Innsmouth," right? I'd like to see one based on "The Pickman's Model," or even a serious adaptation of "Herbert West - Reanimator."

This chick who rollerblades all around my town. Decent face (she looks kinda like Emily Perkins, for the few Ginger Snaps fans out there), average upper, but her ass...DAYUM.

It's one of their staples, actually. "The Optimist" (from Foreshadowing) starts off with Vince McMahon yelling "life suck, and then you die." They don't do it as often as they used to, but they still do it. Sacrifice has it the least, actually.

I'd say their albums (Skinless) rank as such (worst to best): Progression Towards Evil, From Sacrifice to Survival, Foreshadowing Our Demise, and the latest Trample the Weak, Hurdle the Dead. Although each is pretty much head-and-shoulders above most other US death metal acts. Progression is much more grind-y than everything else they've done, whereas Sacrifice is their more "hardcore beatdown"/melodic album. The title track (ESPECIALLY the video, which starts off just mediocre but then becomes an all-out CZW-style brawl) and the instrumental, "A False Sense of Security," are the best parts, though opener "Front Lines of Sanity" isn't too bad. Demise is just nonstop brutality, taking the grind influence of Progression and adding more technical death aspects. Plus, read the lyrics to "Tug of War Intestines," "Pool of Stool," and "Merrie Melody." They're surprisingly funny. And then Trample is relentless. Plodding, destructive...so few brutal bands could pull off a Sabbath cover ("Wicked World," to be precise) so wonderfully.

Don't tempt me. It's been a little while since the last Orglazm.

Half of Demolition Hammer's Time Bomb album is trash. Fucking Century Media...the band broke up, and the two who wrote the album had a different name, but CM wouldn't distribute it under anything but the Demolition Hammer name, so they got kinda fucked there. It's not a bad groove-metal album, but it's not Demolition Hammer quality in terms of brutal thrash. And I think my hatred of Shadows Fall's "Destroyer of Senses" is known.

Corey_Lazarus replied to Corey_Lazarus's topic in Music

I don't even remember the last few albums I bought. I know Zimmers Hole's When You Were Shouting at the Devil...We Were in League With Satan is one of them, but I can't remember anything else. Oh, right, Cannabis Corpse's Blunted at Birth. Stoner death metal via Municipal Waste bassist LandPhil, with every song title a ganj-based parody of classic Cannibal Corpse tunes. It's actually not half bad, either.

Favorite Metallica song: "The Four Horsemen." As for all-out Hetfield/Ulrich penned, probably "For Whom The Bell Tolls" or "Damage, Inc." Sooooo...who else digs Skinless?

So yes, I'd say it's entirely over money and exposure. Which...is good. She left on good terms with TNA, and she's looking just for a bigger payday now that her stock has risen. And you know that if TNA and the Knockout division is still around when her WWE contract is up that she'll probably head back there. She could be like the female Jeff Jarrett of the Monday Night Wars: a couple years WWE, a couple TNA, a couple WWE, and then another couple TNA.

Corey_Lazarus replied to Man Who Sold The World's topic in General Chat

If I had a beard, I'd look/dress almost exactly like what I thought I would at the age of 22 when I was 10. ...that explains a lot.

My sister was born the same year Alien was released, and I the same year Aliens was released. I always found that somewhat ironic, considering they've been 2 of my favorites since I was 7 or so.

Overall, still a great book. I'd have to say that the only character truly sympathetic was probably either Dan Dreiberg or Captain Metropolis. The former because he just seemed to want to do the right thing, and to want to impress Juspeszyck (Silk Spectre II, I forget her first name...Julie? Jane? JAUNDICE?!), and the latter because he really DID just want to do the right thing. That's going to be interesting to see: if the characters are as fleshed out as they were in the book. Hollis, Sally, even the older Bernard and Joey...side characters that helped a lot with the story, so I hope they're more than just one-line characters.

The Metalocalypse season finale, and watching Mosquitoe on Sci-Fi.

UYI: "Fade to Black," "Welcome Home (Sanitarium)," and "One" are all here to refute your claim that Hetfield couldn't sing until the Black Album. He could always sing, it's just when you're playing fast, heavy music? Singing comes second to just getting the fucking words out.

On the weekend of May 31, 1986, Cobra was at the top of the box office for the second week in a row. Fucking COBRA. "Go ahead. I don't even shop here."

Eh...I'd say keep at least some of the newsstand/Black Freighter stuff. It ties into the story well, and usually sums up what just happened or what's about to.

It didn't help that all she was given was a Matrix-like Titantron and a pair of sunglasses.

Very happy with it. I guess a lot of people don't like the first few minutes, but really: this is Metallica. Hetfield's voice will never be like it was on the first four albums. He's almost 50 now, and he blew out his vocal chords while touring for the Black Album, which is why he sings like he does now. Metallica's trademark "ballads" are all slow at the start with some melody, and then they pick up the pace. This is a staple of Metallica, and it's a good sign that they've brought it back. Some of the riffs were pretty damn prog-y. The one quick lick right after the chorus sounded like something off of a Rush or a Dream Theater album.

Either way...why are they making it harder for us to watch the Watchmen? Yeah, I just read it. Bought it Tuesday, finished it last night. Fucking BRILLIANT shit, even if the ending is a little anticlimactic and bizarre, even if somewhat sensical after giving it some thought.

Either Samoa Joe/AJ Styles from RoH War of the Wire, or Sabotage/PRIDE from NECW in March '04.

Gottfried still cracks me up. "BOB SAGET walks into a bar. The bartender tells him that he has a drink named after him. Bob asks what it is, so the bartender explains that it's when you get one shot, sip on it for 8 years, and then collection $100 million."

I thought the DC Comics/Warner Bros. agreement/ownership (admittedly, I'm still fuzzy on it all) has been around for decades? If that's the case, then doesn't that trump Fox even attempting to do anything with it, considering WB would have dibs due to it being a DC product?

I remember that I enjoyed watching it, but that was before the laugh tracks were added. Then it just got painful...

Two comments on this. 1 - Why is pushing metal to the mainstream an achievement at all? I personally like the underground, "you've never heard this kind of shit before" feeling of certain kinds of metal that most people never heard. I remember playing Nile for a friend of mine back in 2003 in Miami where hip-hop and rap are quite predominant and he was just amazed, saying he'd never heard of anything like that before. But I digress- I don't see what pushing a genre or style of music to the mainstream has anything to do with the quality of the band; if anything, with the way popular culture selects its music, it might say a negative thing. However, The same reason why NWA pushing gangsta rap to the forefront is important, or why NIN bringing "industrial" to the mainstream is important. There's a certain it factor about the bands that take a genre previously denied mainstream acceptance and bring it out. And the fact that Metallica did it primarily through hard work, touring, and just spot-on magnificent albums (even some of the most diehard elitists won't disagree with the first 3-4 albums being landmarks of importance and quality, showing that thrash metal could be more than just speed and aggression) is something that should be admired. Of course, they then took this newfound celebrity and decided to just coast the rest of their career, but that doesn't mean they shouldn't be given their due respect for past achievements. First off, you misquoted. They took THRASH metal, at the time the most "extreme" and "dangerous" form of the style (aside from the growing black and death metal undergrounds), to the mainstream. Sabbath are entirely real metal. Anybody who says otherwise is an ill-informed pissant. And I can say Metallica did it bigger and better than Sabbath, primarily because while Sabbath's early albums are masterpieces, classics, there are still a few songs that are just all-around misses, and outside of a few songs on Kill 'Em All and ...And Justice For All? Everything is dead-on, right in the fucking face. And the Megadeth/Metallica debate's been around since Megadeth was formed. While I think Megadeth's songs were much more technical than Metallica's from a playing perspective, I don't understand how anybody could say that Megadeth's songs were better. Compare and contrast Peace Sells...But Who's Buying? with Master of Puppets. Night and day. Peace Sells is more about raw speed and aggression, whereas Puppets is about songwriting, and making each song stand out. And if you listen to Peace Sells now? It doesn't stand the test of time too well. "Wake Up Dead," the title track, and "Devil's Island" are, pretty much, the best songs on the album, almost by default because everything else is just passable filler designed to show Dave's shredding ability. Take away "The Thing That Should Not Be," and Master of Puppets is great song after great song after great song. "Battery." "Master of Puppets." "Welcome Home (Sanitarium)." "Disposeable Heroes." "Leper Messiah." "Orion." "Damage, Inc." Even the weakest of these picks is still ahead of anything on Peace Sells. Or even Megadeth's most commonly referred to "best" album (and I actually agree on this popular opinion), Rust In Peace. The album loses its stride following the third song, thrash masterpiece "Take No Prisoners," and doesn't really get it back together until the last song. Justice builds its pace up. Now, conversely, I feel that Megadeth's 90's output smacks Metallica's right down into the mud, face-first. Countdown to Extinction and Youthanasia are chock full of solid, solid songs, whereas Load and ReLoad are mostly filler outside of the opening few and closing tracks. And ah, the Slayer debate. Let me get this out of the way when I say that Slayer and Exodus are my 2 favorite bands from the 80's thrash scene. Easily. They were dangerous, they were angry, and they cared more for finding different ways to incite moshpits than they did for song structures. But Slayer? Well, Show No Mercy and South of Heaven are massive weakpoints, which leaves us with Hell Awaits, Reign in Blood, and Seasons in the Abyss. Now, outside of 3 songs on Hell Awaits, it's more about the total package - the speed and dissonance of the guitars, the guttural screams of Araya, and the insane drumming of Lombardo - than it is the songs themselves. The title track has possibly the best introductory riff(s) in American thrash metal, and the layout of the song has been copied ad nauseum by death and thrash metal bands everywhere (moody, mid-tempo intro, cut right into speedy dissonant guitar work, with small slower parts in the middle before returning to the speed that followed the intro), and Reign in Blood is near-perfect. I say "near" because "Criminally Insane," while containing great thrash riffs, is a huge weakpoint. South of Heaven is solid, but after Reign? It's not what Slayer fans wanted. It's slower, moodier, but does contain classics like the title track, "Silent Scream," and, of course, live staple "Mandatory Suicide." Seasons in the Abyss bridges Reign and South, but the songs between "War Ensemble" and "Dead Skin Mask," outside of maybe "Spirit in Black," lack originality. And then following "Dead Skin Mask," there's nothing until the title track (which is the perfect album closer, too) save for maybe the chug-along march of "Skeletons of Society." Compare their discography to Metallica's, and I'll even agree that Slayer's is the more fun to listen to, the more inventive even (if only because death metal as a genre owes so fucking much to Slayer it's hilarious), but it's almost not as fulfilling. It's almost too easily digested, even if you have the urge to continue returning to it and give it more listens. It's at times irritating, almost grating, but that's the beauty of it: it lays everything out on the forefront, almost inviting you to give it another try, hooking you in with the promises of something more than it is until you eventually love it because it IS so upfront about its strengths AND its weaknesses. All of this said? Metallica put out the more mastered, accomplished work, even if Slayer ultimately became the more influential (at least in terms of extreme music) of the two. And Maiden...you may have a great argument there. Though I'd say that Metallica's more gritty, down-to-earth approach compared to Iron Maiden almost makes their 80's output stand the test of time just slightly better. Of course, I'd also say that a band like, say, Mastodon, or maybe even Skinless or Cannibal Corpse (now THOSE would be hard arguments to make), is better than Metallica ever was, but I'll choose not to.