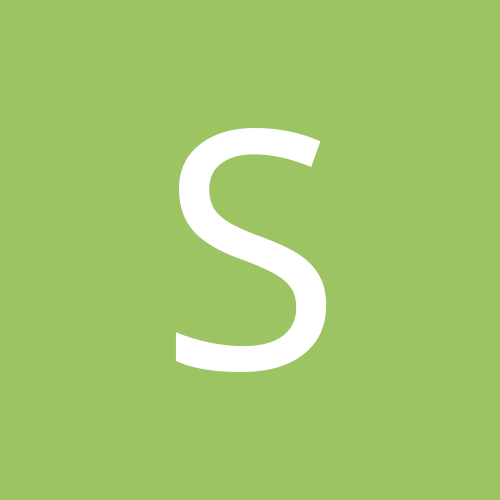 Content count

4850

Joined

Last visited
Everything posted by Styles
I picked Jones in the first round last season. I had him on my keeper list, but I couldn't justify losing a first round pick over him, so I swapped him for Frank Thomas essentially justifying it like trading up in the NBA draft (Jones for a 1st round and Thomas), and I thought about picking him back up the last couple picks, but I just couldn't bring myself to do it after the maddeningly disappointing season he had most of last year.

Just settle down, there's no need to "rid yourself' of anyone. I'm here, I said I had a couple hectic days of work that precluded me from being online much at all even if I was still a regular poster. I enjoy the league (that's why I ran it last year) and will be active with it. Krankor handled the situation appropriately with the 24 hour rule. Last year we didn't institute that rule until late in the draft (and this was with only 4 keepers per team) and we went days sometimes without a pick. This thing is moving good.

Woops, sorry guys, I've had a ton of work the last couple days and forget to check the board. Might as well have some fun with my floating pick: Eva Longoria. .......oh, woops, I'm sorry. Evan Longoria, 3B.

Gosh, looking over my team, it's as depressing and in need of a blow up as my beloved Orioles are. I'll have to make do: Roy Halladay (Round 2) Brian Roberts (Round 3) Edgar Renteria (Round 8) Delmon Young (Round 16) Frank Thomas (Round 17) Nick Markakis (Round 19) Krankor can double check the rounds.

I'm here! Krankor, your volunteering to be the Commish for next season is appreciated and accepted. I'm simply too busy to put as much time as I did into it most of last year. I'd love to rejoin the league as a manager though, yes.

The MLB offseason is just winding down, and although we're still 3 months away from the start of the new season, I wanted to leave plenty of time for us to draft our new teams, which because we're playing with Keepers could take a while, as it would require everyone posting their draft picks when its their turn in the thread since various people are going to be skipping various rounds. Anyway, the first order of business is we have TWO spots open in this year's league. Wart has withdrawn and I never heard back from jWeeper. The two new managers will be allowed to conduct their own Keeper draft so to speak for 4 rounds before the rest of us do the "regular" draft. This will include all the players from Wart and jWeeper's teams. If you are interested in joining the league, I will make it as simple as possible. First 2 to respond expressing interest will get the spots. There are 20 teams. We play weekly stats, head to head. You get 4 keeper picks at the end of the season. Here's the rule we adopted: You can check out last year's thread here for reference: http://forums.thesmartmarks.com/index.php?...p;#entry2129481 Full lists of "taken" players designated as Keepers as well as the draft order for everyone will be posted in due time. For now, I just want to fill up the 2 remaining spots. Also, if you're returning to the league and would like to announce your presence, that would be swell. Since I haven't updated this since October if someone from the league has changed their mind and is dropping out please let me know as well.

Krankor gave a very solid explanation for the trade. I agree it would seem more "kosher" if it was a 5 for 5 deal, but its been said that 4 of the players would just be dropped anyway. Also the fact that both teams are well out of contention means it has little bearing on this year's playoffs. I'm all for the free market (with a little checks and balances in this case), so I'll allow it to go through. As for other topics, # of Keepers, Min. Innings Pitched and categories (namely holds) can all be addressed after the season. I understand though that # of Keepers could effect trading strategy before the deadline. SO, I will try to come to a consensus on that now. I agree expanding to 8 would be too much. You're basically holding out for rookies and 3rd tier players having big seasons at that point. I'd be willing to expand to 6 as a good solution. If anyone is against expanding to 6 and would like to keep it at 4 (or desperately feels we should expand to more than 6) just make your arguments in the thread.

Have no fear, Commissioner is here. Ok, 5 people have protested this trade, which is a red flag for me. Anybody else that has a problem with it, please come forward with it and let me know why. Also, I'd ask the 2 managers to please state their case of why I should allow a 5 for 1 trade to go through like this. Usually I just rubber stamp trades but this one caught my eye too.

Happy to report the completion of my 2nd trade John Buck to John Galt Express for Mike Jacobs. A catching upgrade for him, and for me an extra catcher exchanged for an upgrade at 1st base.

Gotta love when someone you're starting goes on the DL on a Monday and is a black hole for the rest of the week. With Bob Wickman out Chad Cordero has been pulled from the market. John Buck is still available! All you who need a catcher, make an offer! (I guess now I'd be interested in another reliever).

We could consider that late in the season. Also, if anyone is in need of a catcher or a closer, I'm putting John Buck and Chad Cordero on the market.

First trade! Infinite93Intensity trades Frank Thomas to me for Derek Lowe. Mock and analyze I guess. The point is, I've had light hitting Troy Tulowitzki and Scott Hattenberg as my UTIL spot options, and while Thomas has gotten off to a slow start, the power will be there in the long run, so I'm confident he's a big upgrade. Lowe was expendable because of my surplus of pitching and has had a mediocre start, though should be solid in the longhaul.

After posting a 1.90 ERA and .97 WHIP this week, I'm losing both categories, because my opponent was slightly better in both. Not much you can do about that. Still frustrating that the effort was wasted.

Ramon Hernandez is going on the DL...now I need a new catcher. And all my aces self-destructed first week!

General response to bitching: 1) The minimum inning thing was voted on and seemed to work fine last year, so I don't see it being a problem. 2) There are 3 SP spots, 2 RP spots and 2 more P spots. I've got my team set up with 4 starters, 2 closers and 1 middle relief. I don't see what all this talk of having only 3 starters and having to choose between saves and holds is all about. There are plenty of spots. Part of being a manager is making roster decisions. 3) I'm sorry about people who don't get stats on Sunday but NO ONE will get stats on Sunday so its not entirely unfair. Its just a function of us taking forever to finish this draft. 4) Nothing I can do about our waiver rule, we decided all undrafted players go on waivers rather than free agency so you have to take what that comes with (waiting 2 days to clear). Anything else?

Player has to play 5 times at a position to earn eligibility.

Oh quit bitching. It was the most fair with 2 new managers who had nothing to do with last year's finishes of the teams they were taking over.

It looks like I can't change it once its been set for Weekly-Monday anyway. So, as was mentioned, suck it up for a day. Nobody will be disadvantaged since no one will get any points that day.

Yeah looks like since we have it set to edit on Mondays, people with players on Sunday will be locked out this week. But everyone is so no one should win anything I guess.

Ok, its done (what a fun chore that was), so you can all edit your teams now. A WORD OF CAUTION!!!!! I'm almost POSITIVE there had to be at least a mistake or 2 out there in assigning players so PLEASE before you do anything with your rosters take a moment to look it over and make sure all the players you selected are actually there. With the skipping of people, and thus having slightly different orders most rounds, I was constantly having to go back and make corrections, so its likely I missed something. If you got the wrong player/a player is missing, don't panic. Just let me know, we'll figure out who has the right player and I'll arrange for a swap to be made. Hopefully this is all just being overly cautious and everything is correct. Ok, let's finally start the league!

cries Ok, and we said basically tonight by midnight is the deadline. So...if you haven't sent me a list of preferred players, I'll finish off your last round with the highest rank Yahoo player. It's finishing tonight!

God damnit it you're right. Now I can see why Lightning Flik lost his mind doing this (well sort of). Please pick again Marvin. Yahoo has the thing where they add players who start like 15 games or whatever. As long as theres some way I can be assured when he's added that I get to have him..thats fine..I really dont wanna spend another 20 minutes combing over the list of taken players and whos left and worth taking for a position on the bench spot. I can't do it, sorry, too much of a headache. Same rules for Phillip Hughes as Erubial Durazo. If you don't want to make another pick, I can assign you the top ranked player available. Otherwise consider Marvin's picked freezed too, and continue as ordered. 1 and half rounds folks...