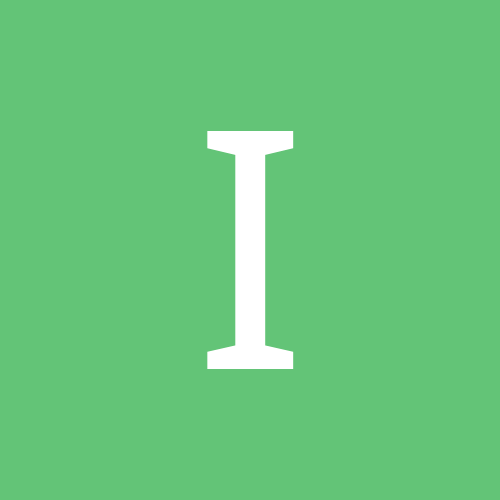 Content count

4609

Joined

Last visited
Everything posted by iggymcfly
I can't understand why BC won't run the ball. They've had some success when they've actually tried it and dropping back to throw every single play on the soggy field is obviously not working very well.

I think too many of the replay judges are afraid to make a call. It's like it has to be obvious to a blind man or they just go with what the referee said. Going on another ACC example, the first down rush for Virginia on the final drive vs. Maryland last night should clearly clearly have been overturned and the fact that it wasn't changed the course of the game.

That TD was bullshit. The unsportsmanlike conduct call was bad enough, but then the receiver was clearly out of bounds before he had possession. It's a shame to see a gift 7 points like that in such a close game.

You can't say that Sting's a bigger star than Kurt Angle now based on buyrates from 1989. That's ridiculous. It's like saying that Ric Flair's a bigger draw for the WWE than Triple H is. The fact of the matter is, the last time Sting was really significant nationally outside of TNA was about 10 years ago, Angle was headlining PPVs in the WWE a couple years ago, and left to TNA while still in his prime. Therefore, while Sting gets the "legend pop" somewhat, you can't really take him seriously as a guy to build the company around. I have nothing against what they're doing now, letting Sting have a title reign, but in the long run, Angle needs to be a fixture in the title picture for at least the next couple years. They've got a long way to go to bring someone like Samoa Joe up to his level.

Well, guess I'll be sleeping in this Saturday. On the one hand, it's too bad as I kinda wanted to see WVU/Rutgers, but on the other hand, with ESPN now having a football game every single night of the week, I've been watching enough that it's probably not a bad idea to have a couple hours off here and there. I'm not too worried about no reverse mirror game at noon since I'm going to be glued to the USC/Oregon game from start to finish or at least until the Ducks go up by 30 points in the middle of the 3rd quarter.

iggymcfly replied to Bored's topic in Sports

Hey Bored, don't know if you want to bother with this or not, but as a quick suggestion, it might be a nice idea to post records with the teams when you release the Top Ten at the end of the week. It seems that other than searching for your own team's name, you really don't have any frame of reference for what you're looking at most of the time. If you could say to yourself "oh, here's the 3-loss team who's been making lots of picks right" or even "look at this 2-loss team ahead of that 1-loss team", I think reading the rankings might be more interesting.

iggymcfly posted a topic in Sports

Sorry Bored, but you were lagging behind on this one. You can still post the schedules if you want because I'm starting off the thread with my national championship breakdown by tiers. We're down to 18 teams that have any chance of making the BCS title game whatsoever and I'm ordering them from 1-18 in terms of who has the best chance if they win out. You can think of this as a ladder showing who has the best opportunity to make the championship with the teams either getting knocked down the ladder or off it completely with a loss. Tier I: Just Win Baby There are only two teams in the country right now that completely control their own destiny. If these two teams win out, no one else is going to make it, be they a 12-0 Boston College or an 11-1 LSU. Here are the teams that control their own destiny. Arizona State (7-0): Yes, the Sun Devils are a ways back in the polls now and in the computers, but that can all change with their upcoming schedule as ASU still has games remaining against USC, Cal, and Oregon. Wins in all three of those would likely give Arizona State a #1 ranking and at the very least would put them #2. The downside is that their chances of making it through all those games unblemished are extremely low to the point that I wouldn't consider them even one of the 5 most likely teams to make the championship. Ohio State (7-0): Sitting comfortably at #1, Ohio State is the other team that doesn't have to worry about what's happening around the country and can just focus on winning the remainder of their games. While it looks like they're in a close battle with USF for the top spot right now, and could conceivably fall if ASU runs the table, that's mainly a mirage as their tough remaining schedule with games against Penn St., Illinois, Wisconsin, and Michigan will lift them in the computers and solidify their hold on #1. Tier II: The Frontrunners Yes, the above teams are the only ones guaranteed to go to New Orleans if they win out. However, there are several more teams that are very likely yo get in if they win the remainder of their games to the point that many of them shouldn't even worry about their rank. Here are the other leaders who should make the title game if they take care of business: South Florida (7-0): At #2 in the BCS and with some tough games remaining, the Bulls are >95% to make the BCS title game if they get to 12-0. They rose in the polls early to give themselves a foothold with the voters and also have the SOS to be favored by the computers. Thursday's road game against Rutgers may be the toughest test they face en route to the national title game. Boston College (7-0): The Eagles are also in a great poll position despite facing a relatively weak schedule. While they could face some trouble from another undefeated, it would be almost impossible for them to get jumped by a one-loss team unless the voters have a major change of heart. Kansas (6-0): The biggest handicap for the Jayhawks is early poll position. They didn't have any splashy games early and by the time they reached the Big XII championship (if they did), they could still be as low as #5 or #6 going into a showdown with Oklahoma. If they won that game, they'd get a big leap, but whether it would be enough to pass say a 13-0 Boston College squad is very debatable. I'm saying the Harris and Coaches Poll voters are stubborn enough that KU's probably going to need all the other undefeateds to lose to have a chance to move into the Top 2. LSU (6-1): The combination of preseason hype and big wins should give LSU the benefit of the doubt over any other one-loss team. A road loss to Kentucky really isn't bad at all, and with the weak crop of undefeateds above them, getting to 12-1 should be enough to put the Tigers into the championship. USC (5-1): As bad as USC's looked thus far, they still have a lot of opportunities to atone for their mistakes. Road games against Cal, Oregon, and Arizona State could go a long way toward proving that the Trojans are for real. If they get through that stretch of games unblemished, they probably deserve a shot at the title and the pollsters will be only too happy to give the benefit of the doubt to the brand name. California (5-1): If California can beat UCLA, ASU, and USC after Longshore comes back, the loss to Oregon State with a backup QB will be all but forgotten. Honestly, I think they're more likely to go 9-3 than 11-1, but if they win out, they'd get the benefit of the doubt over any one-loss team except LSU. South Carolina (6-1) The Cocks are already in a pretty good poll position and beating Florida and Tennessee before winning the SEC Title would be enough to put them on the forefront of everyone's mind. South Carolina's also in a unique position in that their only loss (to LSU) was a road game that they could avenge at a neutral site. Especially with what happened with Florida last year, there would be a huge uproar if a one-loss South Carolina team was left out for a one-loss team from a conference that was perceived to be weaker. Kentucky (6-1): The win over LSU made them a player in the national scene and if the Wildcats beat Florida this weekend, win at Georgia, beat Tennesse, and win a rematch with LSU in the SECCG, it would be pretty hard to keep them out of the national title game. I don't think Oklahoma or Oregon would have the schedule to get in over the Cats. Tier III: The Contenders These are the teams that can't honestly they say have a 50/50 shot to make the championship if they win out. They're certainly in the race, but they're going to need a little bit of luck and some help from above to actually get in. Oklahoma (6-1): The one thing really working in the Sooners' favor right now is inertia in the polls. They're currently ranked #4 in both the Harris poll and the coaches poll. The problem is that they're already ranked low in the computer polls and with their weak remaining schedule will have a hard time climbing. If a one-loss Pac-Ten team can get a decent amount of the voters to put them above OU, they should be able to pass them. Oregon (5-1): Oregon's problem is that they don't have the big game left on the schedule that's going to give them instant credibility. They already lost to Cal and with USC falling fast, a win over the Trojans won't carry the same panache it once did. I originally had Oregon in the second tier, figuring they'd have to get in over Oklahoma just by virtue of playing in the Pac-Ten, but on further review, the pollsters that matter don't like the Ducks and UO may need the ASU to beat Cal and come into the Oregon game undefeated to actually be able to pass the Sooners. Missouri (5-1): Like Kentucky, Missouri also has a chance to avenge their only loss in a conference championship game. They don't have the name value to make any big leaps, but should get in over a one-loss team from a weak BCS conference or over a 2-loss SEC team. Florida (4-2): Even though the Gators are a ways back in the polls now, road dates with Kentucky and South Carolina, along with a rematch in the SEC championship game to possibly avenge one of their losses should allow the Gators to pass some teams if they win out. Memories of their national title victory are still fresh in voters' minds, and the story value of them coming back from a 4-2 start would also work in their favor. West Virginia (5-1): Name value and a forgivable loss should give the Mountaineers a decent shot to get in despite the perception that play in a weak conference and a lack of any real big-name wins on the schedule. Texas Tech (6-1): The Red Raiders are a long way from championship position right now, but with a narrow loss to Oklahoma State being their only blemish and with road dates vs. Missouri and Texas giving them a chance to get national exposure before the season-ending showdown with Oklahoma, Texas Tech can't be counted out. The timing on their remaining schedule is just barely enough to keep them in the third tier. Tier IV: The Longshots These teams while still technically in the race are going to need every single break to go their way. They will likely need the top teams to lose not once, but twice. Cincinnatti (6-1): They're still in the Top 20 and have late-season showdowns against USF and West Virginia to move up, but when you have no name value, it's tough to make up for a loss this late in the season. They're going to need a ton of help to make it to New Orleans at this point. Their 34-3 win over Oregon State could potentially help them get in over a 2-loss Pac-Ten team however. Hawaii (7-0): Do you see Hawaii getting in over a one-loss Ohio State team or a two-loss LSU squad? Me neither. They do have their early-season poll position working for them, but they'll need a lot more upsets from the top teams and they need Washington to play well the rest of the way too as their 2-4 record isn't going to impress anyone when the Warriors play them in the finale. Eliminated last week: Connecticut, Illinois, Wisconsin, Texas A&M

The voters actually did move them up a decent amount this week. They moved up to 9th in the AP, 8th in the coaches poll, and 7th in the Harris poll this week. It's that 23rd in the computer rankings that's killing them.

Come on now. Wake Forest in the Top 25, but not Cal? I know you hate the Golden Bears, but that's just not fair. Playing at UCLA is extremely tough when the Bruins are motivated, and beating the Ducks at Autzen is probably the best win of any team in the country this year.

Just wanted to say that with the new Sagarin ratings out, Hawaii's schedule is ranked 171st, meaning that there are now 50 I-AA teams that have played tougher schedules than the Warriors. Sagarin puts Hawaii at #49 overall, although they'd be #48 if you just count I-A teams as Northern Iowa's 8 spots ahead of them. With UNLV's loss to 0-6 Colorado State, the toughest team Hawaii's played is now Louisiana Tech who's ranked #107/#101. That means Hawaii hasn't played a single team in the Top 100!

Doing my tiers system again, ranking the teams by how good of a shot they have to make the national title game if they win out. Also, even within the tier, the teams are clearly ranked from top to bottom in the order that they're listed. The first team of one tier is closer to the last team from the previous tier than the last team from their own tier. We're down to 14 teams contending for the national title now. Tier I: Just Win Baby There are only two teams in the country right now that completely control their own destiny. If these two teams win out, no one else is going to make it, be they a 13-0 Boston College or an 11-1 LSU. Here are the teams that control their own destiny. Arizona State (7-0): As long as they keep winning, ASU will move up fast. They moved up 5 spots this week on a bye. Imagine what will happen when they start playing USC, Cal, and Oregon. Ohio State (8-0): Ohio State's still #1 in the country and with the USF loss is almost assured of a trip to New Orleans if they run the table. BC would have to start blowing teams out to even have a shot at unseating OSU. Tier II: The Frontrunners Yes, the above teams are the only ones guaranteed to go to New Orleans if they win out. However, there are several more teams that are very likely to get in if they win the remainder of their games to the point that many of them shouldn't even worry about their rank. Here are the other leaders who should make the title game if they take care of business: Boston College (7-0): The Eagles are sitting pretty at 7-0, but have been somewhat untested thus far. A Thursday night game with VT should show whether they're a real contender or not. Kansas (7-0): It's going to be extremely close if an undefeated Kansas and a one-loss LSU are competing for the last spot in the title game at the end of the season. The one reason I'd give the Jayhawks the benefit of the doubt though is the two big games they finish the season with. Playing a possibly 10-1 Missouri and the following that up with an 11-1 Oklahoma squad would be enough to give the late push to an undefeated. If OU or Missouri stumbles though, Kansas may need the Tigers to pick up another loss. LSU (7-1): LSU's far and away the best one-loss team in the country right now, and what's more, the voters are starting to realize it, pushing the Tigers past Oklahoma this week. If the undefeateds lose, they'll have no worries about being caught from behind. USC (6-1): USC got back on track with a blowout over Notre Dame this week, and if they start beating the Oregons and Arizona States on their schedule, they'll rise quickly. A one-loss USC team would still have a very good shot at reaching the national title game. Tier III: The Contenders These are the teams that can't honestly they say have a 50/50 shot to make the championship if they win out. They're certainly in the race, but they're going to need a little bit of luck and some help from above to actually make it. Oregon (6-1): By getting within one spot of Oklahoma in the coaches poll, Oregon basically passed them potential-wise as a win over USC would now likely be enough to propel UO ahead of the Sooners. Oklahoma (7-1): The close game against Iowa State came at the worst time possible as Oregon's got their big showdown against USC this week and the comparison would definitely move Oregon up to #4. Oklahoma now needs losses from 3 Pac-Ten teams above them in addition to LSU and the undefeateds. Missouri (6-1): With a blowout over Texas Tech in a virtual playoff game this week, the Tigers are still right in the race. With undefeated Kansas still on the schedule and the potential to avenge their road loss to Oklahoma at a neutral site, Missouri has just as good of a shot to reach the title game as Oklahoma does. Florida (5-2): Florida keeps getting closer and closer to the top of the polls, moving into 11th after the big win over Kentucky. If they beat a one-loss LSU team in the SEC Championship game, I'd absolutely expect them to pass a Big East team with one loss. West Virginia (6-1): WVU's #6 in the coaches poll this week and could still sneak into New Orleans if enough teams lose. After the showdown with Rutgers this week, they don't have any showcase games the rest of the way though, so it will be next to impossible to beat out OU or Missouri and Florida would likely get the nod over them as well. South Florida (7-1): Yes, they have a head-to-head win over West Virginia, but at 5 spots behind them in the latest coaches poll, they probably have too much ground to make up to get past the Mountaineers. WVU also playing a road game against Rutgers should be enough to seal the deal if both go 11-1. Tier IV: The Longshots These teams while still technically in the race are going to need every single break to go their way. They will likely need the top teams to lose not once, but twice. South Carolina (6-2): The one good thing about losing to a really bad team is that people tend to dismiss it if you beat the good teams later. With Tennessee, Florida, and a possible rematch with LSU still on the slate, South Carolina has plenty of time to gain ground in the polls if enough teams lose. Hawaii (7-0): Hawaii's chances look worse every week and every Washington loss is a death blow as that's about the only game left that can give the Warriors actual credibility. I honestly think Hawaii needs not only to win out, but for UW to win out as well to have any kind of legitimate shot. Eliminated this week California (5-2): #20 in the polls at this point of the season = too much to recover from. Even if Longshore had been out last week and given Cal an excuse, they could have made a quick rise, but they really have no shot to reach the title game at this point of the season. Kentucky (6-2): Kentucky's not going to be able to avenge either loss in the SEC Title game since both came from within their division. Combine that with the Kentucky brand name that the voters were pretty skeptical of anyway, and the Wildcats are done. Texas Tech (6-1): The Red Raiders were somewhat of a longshot anyway, but they got exposed big-time against Missouri. While the conference title is still within their reach, it's extremely unlikely given how poorly they played last week. Cincinnatti (6-2): Two losses in the Big East = LOL @ competing for the title.

Well, the schedule does at least get tougher for Hawaii. After playing at Nevada, they play Boise State at home (best mid-major in the country, legit Top 30 team) and then finish with Washington. If they get through all that undefeated, they'll at least be Top 10 and could potentially be Top 5. I wouldn't even count them 100% out of the national title race, but every one-loss team except the other national title participant would have to lose, Florida will have to pick up a 3rd loss, and then with all that, Hawaii still probably needs Washington to go undefeated the rest of the way and get to 7-5 going into their matchup. If all that happens, and then Hawaii blows out Boise and UW, they'd have a pretty good chance to get to the BCS title game. The much more likely scenario though is that they blow the road game to Nevada in the cold, let down against Boise the next week and lose at home, then get blasted by 20 or 30 points against UW to finish the season 9-3. I think Kansas probably has a better shot at going undefeated than Hawaii.

Yeah, just for fun, let's list the records of Hawaii's opponents again. This is always a good illustrative exercise: Northern Colorado (0-8) (FBS) Louisiana Tech (2-5) UNLV (2-6) Charleston Southern (3-4) (FBS) Idaho (1-7) Utah State (0-7) San Jose State (3-5) That's a combined record of 11-42. Throw out Charleston Southern who has wins over schools named JC Smith and North Greenville and the record drops to 8-38. That's just beyond ridiculous. It's not just the Wisconsins and Clemsons of the world who could go undefeated with this schedule. I honestly think Duke would be 7-0 playing these teams.

It's not the number of wins; it's the quality. According to the Sagarin ratings, the best team they've played this season is UNLV, currently ranked either #92 or #84 depending on which set of rankings you use. UNLV's 2-6 and tied for last in the Mountain West. Hawaii hasn't played a single team in the top 80 all year and yet they've still been taken to overtime twice. That's just not a team that deserves a Top 25 ranking IMO. The first semi-real opponent they face is Fresno State two weeks from now. (Ranked 63/70, approximately equivalent to Iowa.) If they beat them handily, I'll consider UH for a Top 25 spot and if they win at Nevada, I'll probably give it to them, even though Nevada's not in the Top 80 either. You have to realize though, Hawaii's played a really, really bad schedule thus far. Not only is it the weakest in all of I-A, it's actually worse than 29 I-AA schedules too. About 80% of the BCS conference teams could be undefeated with Hawaii's schedule right now.

I finished my rankings for this week. For once, I wished I didn't have the close portion as the Top 25 were all fairly easy, but after about 27, there was no one worth ranking. Without further ado: (Previous week's ranking in parenthesis) 1. Ohio State 8-0 (1) 2. LSU 7-1 (3) 3. Oregon 6-1 (5) 4. Boston College 7-0 (7) 5. Oklahoma 7-1 (4) 6. West Virginia 6-1 (9) 7. USF 7-1 (2) 8. Florida 5-2 (12) 9. Kansas 7-0 (13) 10. Arizona State 7-0 (11) 11. Missouri 6-1 (14) 12. USC 6-1 (15) 13. Kentucky 6-2 (6) 14. California 5-2 (10) 15. Virginia Tech 7-1 (17) 16. Auburn 5-3 (16) 17. South Carolina 6-2 (8) 18. Rutgers 5-2 (29) 19. UCLA 5-2 (32) 20. Michigan 6-2 (24) 21. Georgia 5-2 (22) 22. Texas 6-2 (21) 23. Penn State 6-2 (23) 24. Virginia 7-1 (26) 25. Alabama 6-2 (30) Close: Connecticut, Cincinnatti, Kansas State, Boise State, Hawaii, Purdue, Oregon State Edited to put BC above Oklahoma. I just can't in good conscience rank a team that went down to the wire with Iowa State ahead of a solid undefeated.

Gah! I checked the score on the KSU/OSU game with 0:08 left, saw that K-State was up 39-38 and assumed that I'd won. (There was no Gamecast or anything since it wasn't televised.) Then I look back at the screen later and find out that Oklahoma State made a field goal with 0:02 left. With my 6-4 loss or whatever I end up at this week, I'm probably dropping out of the Top 10 for a while.

Well I'm having a really bad week pick-wise (3-7 thus far), but I'll still pick up a win as long as K-State holds on. Go Wildcats.

What if the argument's that USF's 9-3? I mean obviously if they win out from here, they'd get in over Auburn, but even with two losses, I'm not so sure. If Auburn goes from losing those two games to beating Florida, LSU, Georgia, and Alabama, and then beats a good team in the SEC Title game, I wouldn't say they're out of the race. Let's say Ohio State wins out, but USF, WVU, Oklahoma, and Missouri all lose again, BC loses to VT twice, and nobody gets out of the Pac-Ten with more than two losses. Can you really say for sure that say a two-loss Pac-Ten team that finished 2nd in their conference to UCLA would get in over an Auburn team riding a 10-game winning streak? Would an undefeated Hawaii or a one-loss Kansas make it over them? Don't get me wrong, there's a reason they'd be in the longshot category, and this will probably be a moot point after the LSU game tonight, but I don't think it's impossible for them to get in. Cal's probably eliminated though. They were already a ways down in the polls and this loss will likely push them out of the Top 20 which is probably too far to come back from. I'll have to see where the voters put them to be sure, but even with Arizona State and USC on the schedule, it's going to be pretty hard to come back now.

Yep, down to 16 teams that have a shot now, and that will be 14 once the Florida/Kentucky and Missouri/Texas Tech games are done. Although I think I may have miscalculated with Auburn a little bit. With how early in the year their losses were, I think they should probably at least be in the longshots group if they beat LSU.

How on earth is Michigan State/Ohio State supposed to be the primary game of national interest? Are they just figuring that there have been so many upsets this year that they'll take their chances and hope MSU's competitive? I'd much rather watch UCLA/Cal or Texas Tech/Missouri.

Did you really get this high just off of weed or were you on something else? Pretty funny story either way. As for me, I guess I have a few high school stories. I was a pretty good defender/rebounder in freshman basketball and I could even shoot fairly decent in practice, but somehow I'd get performance anxiety or something in games and would take some really ugly shots. My playing time got cut to about 5 minutes a game and I didn't get the ball much even when I was in. I didn't score a point the first 12 games or something and going into the last game I probably had like 6 points total over 20+ games. Then, the last game we were playing some crappy team and so the coaches played me over half the game and actually made an effort to get me the ball so I scored 12 points. It's nothing too special, but it was kind of amusing to score twice my season total in the last game. In football, I was better than I was in basketball, but still not very good. I played on the line on both sides of the ball, but played a lot more offense than defense in JV ball because that's where I was better. The second to last game of my junior season, someone gets hurt and I finally go in for the varsity in the second half. Then, the next Monday, I go to the JV game (almost all the underclassmen that didn't start both sides of the ball for the varsity would play JV because we had a small school) and in the 2nd quarter, I made a tackle on kickoff coverage and broke my hand. I actually finished out the game, just playing offense and blocking with my forearm instead of my hand as I didn't really believe it was broken. I made it through practice on Tuesday before realizing that I should get it checked out and finding out that yes, it was broken. So anyway, I ended up not playing although I did have a cast wrapped up and some pain-killer. Then my senior year, we got all new coaches except for the defensive coordinator that had been there for 20 years. For some reason, the new coaches decided I sucked and never even attempted to play me on offense, even though I was definitely better than one of the guards we started most of the year. I played some on defense just because the coach who'd been around most of the year wanted to get me in. Then, I missed a game to go to my grandma's funeral (she lived with my mom and I and we were really close) and he pretty much stopped playing me too. OK, I guess the last part was more like "mundane bitching about things that happened years ago" than a mundane achievement. It was supposed to be just "scored 12 points in a HS basketball game after averaging <1 PPG the whole season" and "finished a JV football game with a broken hand".

In that theoretical scenario, there's no way in hell BC gets jumped by a one-loss team. However, the scenario itself is pretty unlikely. Ohio State has far and away the best chance to finish the season undefeated, and even they are <50% to get to 12-0. BC's <50% to even make it through their next game undefeated. If you really want to know who's in line to make the title game in what order though, you can just look at my first post in this thread. The only difference after Thursday is that you can drop South Florida from the top of the 2nd tier to the bottom of the 3rd tier.

BTW, just looking up at my tier system, there are basically two elimination games this weekend that will trim the field at least down to 16: Florida at Kentucky Texas Tech at Missouri The field actually should stay at 16 though, as Cal's the only other team that has a really tough game this week (at UCLA) and even if they lose that, they still wouldn't be completely out with games against ASU and USC still remaining to bolster their poll rankings. With that said, their chances of getting in with two losses are much better if they lose without Longshore than if they lose with him in the lineup. He's still questionable at this point for Saturday.

It's amazing that after all the shenanigans they've had in the early-season, Rutgers and Louisville will likely finish the day in a two-way tie for first in the Big East. Not as amazing as UConn being the only undefeated in the conference right now though I guess.

That offensive PI call was bullshit. No way should the refs decide the game there. I mean he barely touched him.