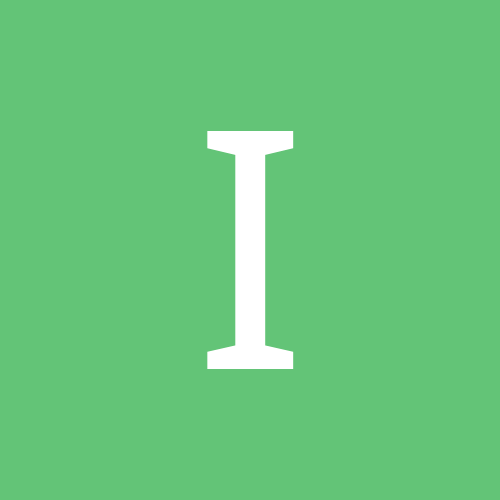 Content count

4609

Joined

Last visited
Everything posted by iggymcfly
iggymcfly replied to Bored's topic in Sports

Because no one wants to be in the Big East when they can be in the ACC instead. That's why all those teams left in the first place. UCF would probably be the best fit as the foottball program's on the upswing with George O'Leary coaching and the basketball program did at least win 20 games last year. It would still be a pretty big downgrade from the Cuse hoops-wise though.

Edited for truth. Agreed. I think Metallica is the single most overrated rock band in the history of music. Their music's super repetitive and it's just a few basic melodies to begin with. Maybe music was just that bad in the '80s that people had low standards?

No, because that kind of gimmick is so hard to actually write well, that the current staff would sink it before it was 3 months out of the gate. Instead of puttting him in serious feuds and giving him a chance to get over, they'd just have him stare googly-eyed at the divas while they showed a little bit of cleavage or pour green slime on him and have him wear it for 6 months in endless pointless lower-midcard matches.

LOL. I agree completely. I think I played maybe 5 games on varsity when I got my first version of the game like 6 years ago. All you have to do to roll on All-American is just fire up non-stop hail maries. They get caught like 90% of the time. Even Heisman can get pretty easy if you're playing a bad team. I have several games a season that I win by 30 or 40 points and my biggest win was a 72-0 win over Kansas State with Nebraska.

So does anyone who bought '08 actually have an answer to this yet? To give you an example of what I'm talking about, with two weeks left in the season (and a lot of teams already done for the year), there are still 7 undefeated teams this season on my dynasty including #18 Vanderbilt and unranked Colorado. The Colorado one's especially ridiculous since they've been in contention in the North every year (it's my division, I ought to know) and are only 3 years removed from a national championship appearance. I'm coming off a road win over another undefeated team in (previously #5) Texas A&M and I've got Colorado at home, so there's a pretty good chance I'll take them out, but still. It's really ridiculous how good of a season you have to have to move up the rankings in any meaningful way. If this bug's been fixed, it would definitely be a positive.

If the 90s means exciting unpredictable complex intertwining storylines between multiple personalities at the same time such as a link to the opening of Summerslam 97 or a link to the opening of Survivor Series 98 and the new identity means whatever passes for story today (Not much), we should probably go back to the 90s. God, I just watched those links and they make me miss wrestling so much. Not the crap that passes for it now with Cena and Lashley embarrassing themselves in a feud based on nothing, but the interesting, well-written stuff that they had back in the day.

You really think this is an issue? I usually turn the penalty sliders up because they call so few of them. Honestly, All-American's not very hard after a season or two.

I still don't see why people start playing the game at a skill level where they can just go undefeated. That would be zero fun for me. On my '07 dynasty, I started on Heisman at Georgia Tech and barely kept my job the first few years. I didn't make the ACC championship until my 7th season, and then when I went 13-1 and finished #2 in my 8th season, I got bored with having more talent on my roster than anyone else in the country and left to go to Nebraska. Now I'm in my 5th season at Nebraska and while I did win a Big 12 title, my best record there is only 11-3. If I ever do win a national championship on Heisman, I'd probably just quit playing for a while and then when I really got the itch, I'd just rebuild some program like Idaho where I'd still have the full challenge.

Hammer has missed a lot of wrestling years between her original consulting stint and her present day management of USA Network. The original Attitude era was a successful attempt to grow the product beyond the child-skewing storylines that had insulted adult intelligence. Pro wrestling has regressed to the point in Hammer's absence though that they've completely given up on marketing to anyone over the age of 12. FYP. Honestly, I find the idea that the product has "advanced" to be ludicrous. Yeah, a few of the specific "attitude era" angles wouldn't hold up now, but the storylines were about 100x more cohesive and well-written, the booking was more exciting, and the characters were much deeper and more realistic. Do they really expect adults to get into "Umaga the Samoan jungle savage", "Khali the Indian jungle savage", or "Cena the human fart joke". Even cartoons and comic books wouldn't stoop to such cliched one-dimensional characters. If I were to tune in every week and just stay until something ridiculous came along that insulted my intelligence, I'd probably only have the TV on for about 5 minutes average.

Orton as champ >>>>> then Cena's lame face run. I don't really know where you go from there though. Everyone on Raw except Cena's been so buried that I can't really think of an intriguing feud for Orton when he's done with Cena. He could get maybe a month out of HBK when he comes back, but then what do they do until Wrestlemania? Orton vs. Lashley? Orton vs. Jeff Hardy? They really haven't done enough to get new guys over lately considering that they're trying to run three brands.

I haven't watched two episodes of Raw in a row since Cena's last title reign started and I haven't watch a full show of ECW or Smackdown in almost a year either. The bad gimmicks and non-existent storylines are both major detriments, but the worst part is that the main event scene is just terrible everywhere. Cena hasn't had a realistic threat to his title since Mania, Edge doesn't have any decent opponents, and the ECW Title's such a joke right now that it's ridiculous. There are just never any interesting feuds, and most of the characters are so jobbed out that they don't even look like credible threats. From a quick glance around the board, it seems a lot of people are similarly frustrated. Anyway, the simplest thing that I can think of that would actually get me tuning into Raw again would be if they brought back Jericho and put him right into a main event program with Cena. They could run a stalker angle where Jericho blames Cena for pushing him out of the WWE (since in storyline terms, Jericho left the WWE crying because of a loss to Cena) where Y2J comes back to make Cena's life hell and take the title away from him. I think that's one program I could really get into and seeing Jericho back in the main event would be enough to get me tuning back into Raw regularly, especially if he ended up taking the belt from Cena and holding onto it for a while as a real badass heel instead of the Honky-Tonk Man like wuss he was booked as before. Any thoughts for anyone else that could get them legitimately on the edge of their seat waiting for Raw every Monday? (Or for ECW or Smackdown if that's what you prefer).

I'd vote for 5 keepers, just with the idea of getting one more each year, and then maybe 6 the following season. If everyone wants to do 6 though, that's fine too.

Are the dynasty quirks fixed yet? I'm still playing '07 and the thing that annoys me most is that there are never enough upsets so you end up with like 4 undefeated teams and 10 one-loss teams every season. The fact that no one ever schedules a real team the first week of the season and you end up with something like Texas vs. Tulsa as the game of the week is mildly annoying too.

Actually, this makes perfect sense. In kayfabe, Cena has the strength of three men, so they need to have a handicap match just in the interest of having a competitive match for the audience.

iggymcfly replied to Bored's topic in Sports

I haven't been following the board too close, but I'll definitely be back to defend my title as Georgia Tech. Oh, and Pepsi Blue sucks, so let's just make it the Bored Bowl.

iggymcfly posted a topic in Sports

WTF! The best Wimbledon final in decades is going on right now, and there's not even a thread for it on the board? No wonder I don't post here any more.

No, not really. I could care less about that. It's just that the forums at 2+2 are a lot more active and intersect with my interests a lot more. I'll still be in here during college football season, but the rest of the year there's just not much worth discussing in this forum.

Oh, I didn't even know Leena got banned. Shows you how close I follow this place I guess. Honestly though, if you've got even the slightest interest in tennis, you have to watch this 5th set. Just an amazing match thus far.

I said I haven't watched a full show in a year. I still try tuning in every few weeks and usually end up bored to tears after 10 or 15 minutes, switch the channel to something else and never switch back. I also follow the product on the internet and look if anything seems interesting. I started watching Raw off anf on again for a while when it looked like HBK might take the title from Cena and tuned right back out when he started feuding with Khali. Also, when I said: I didn't mean any other outside wrestlers. I just meant any ideas from any other posters that would get them interested in the product again.

Except for the comment on TMQ (which really has no credibility at all), there's no evidence that Nancy killed Daniel. WWE.com says that Benoit murdered them both and Meltzer says that Nancy was killed Saturday and Daniel wasn't killed until Sunday. It sounds more likely that the "family emergency" was that Nancy was cheating on him and he flipped out and killed both his wife and son in a rage.

Wow, it's funny when I first read the story coming out about the bodies being found, it didn't even occur to me that Benoit would have killed his wife and child. That's so fucked up. Looks like he did though. I can't imagine WWE putting that headline up on their main page unless they were reasonably sure that it was true. I'm not taking this as personally as some on this board, but that's still just crazy to think of. Frigging Chris Benoit murdering his wife and child, likely with his bare hands. I'll also say that the whole tribute show did seem a little "off". I think Malenko and a few others must have had a pretty good idea what happened.

OK, you're not allowed to post again. Yeah, sorry about that. I guess the avatar's not the only way to jinx someone. Has been pretty weird how Ottawa keeps pulling the Jekyll and Hyde act though.

Fuck NBC and all this "classless" stuff. Alfredsson was just giving Anaheim a little taste of their own medicine. I thought it was a pretty clever play actually. Not enough time to go for a goal. Might as well give Niedermayer a little stinger.

Pretty dominant first period for the Sens. Outshooting your opponent 13-2 is ridiculous. It's weird how the first two games, Anaheim was contolling everything and getting all of the chances, and everything's just completely reversed itself playing in Ottawa. It's not like this is basketball or something where home advantage is historically significant. If Ottawa plays anything like this the rest of the way though, I really like their chances.

Awesome game for the Senators. They controlled the puck throughout the game and crashed the net hard. Also, they finally stood up to Anaheim's chippy bullshit and got physical when they need to. They've definitely got what it takes to win this series.