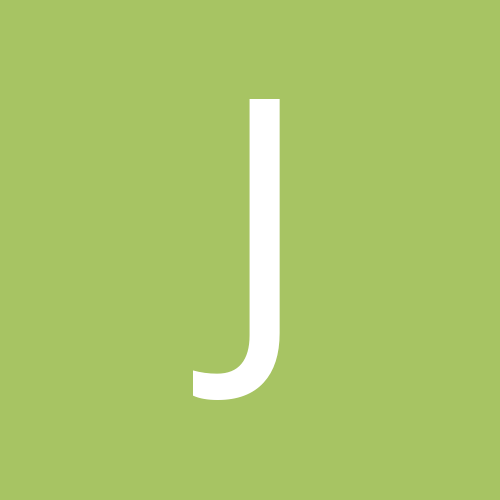 Content count

977

Joined

Last visited
Everything posted by Jorge Gorgeous
Jorge Gorgeous replied to alfdogg's topic in Sports

They're undefeated when I go too, we should work out a visitation schedule, I think.

Jorge Gorgeous replied to a topic in Sports

Great, great, great movie.

Jorge Gorgeous posted a topic in Sports

Draft Order and Remaining Selections: Needs in parentheses 1.Vic Mackey 2.Gert T-IN! 3 Kahran Ramsus-IN! 4. Fokai-IN! 5. Bored-IN! 6. CanadianChris-IN! 7. 909 8. jwest27-IN! 9. Broward83 10. VX-IN! 11. JustJohn-IN! 12. Smartly Pretty-IN! 13. Tzar-IN! 14. MFerXtreme87-IN! 15. HarleyQuinn-IN! 16. Brooklyn Zoo 17. TheOriginalOrangeGoblin-IN! Rules: -Miss three rounds, you're out of the draft. Your players are sent back into the pool. -Offensive Linemen are drafted individually. -Players cannot be selected as a player if they have been selected as a coach, and vice versa. - First three rounds have a 10 hour pick limit. - Subsequent 27 (or so) rounds have an 8 hour pick limit. If you're going to be at work/vacation/making love then PM the person who drafts after you, or PM someone who isn't in the draft, or I'll give you my phone number. I'm sorry, we just need to keep this thing moving. -PM the person who drafts after you. Do this every time. I'm super serious. - Include a picture and a description with every pick. If you do not, your pick does not count, and the next person is up. You can jump in with your pick and a picture/description at any moment like a frenzied Viking front-office member. - No Czeching it. If you start drafting R-Kal Truluck or Akbar Gbaja-Biamila, you're out and your picks go back into the pool. These are the rules. Rosters... 1.Vic Mackey QB: Donovan McNabb FB: Jim Brown RB: Ricky Watters WR: Michael Irvin, Hines Ward TE: Wesley Walls T: Orlando Pace, Lomas Brown G: Gene Hickerson, John Niland C: Olin Kreutz DE: Alan Page, Julius Peppers DT: Jerome Brown, Ted Washington LB: Levon Kirkland, Seth Joyner, Carl Banks CB: Dick "Night Train" Lane, Chris McCallister S: Leroy Butler, Eddie Meador P: Darren Bennett K: David Akers Coach: Joe Gibbs 2. Gert T QB: Len Dawson RB: O.J. Simpson, Thurman Thomas WR: Jerry Rice, Henry Ellard TE: Jason Witten OT: Tony Boselli, Jackie Slater OG: Alan Faneca, Ken Gray C: Ray Donaldson DE: Gino Marchetti, Kevin Carter DT: Buck Buchanan, Steve McMichael LB: Willie Lanier, Wilber Marshall, Charles Haley CB: Herb Adderley, Ken Riley S: Ed Reed, Jake Scott K: Mark Moseley P: Reggie Roby KR/PR: Mel Gray Coach: Paul Brown 3. Kahran Ramsus QB: Fran Tarkenton RB: Walter Payton FB: Jim Taylor WR: Tommy McDonald, Steve Smith TE: Pete Retzlaff T: Walter Jones, Al Wistert G: Randall McDaniel, Will Shields C: Kevin Mawae DE: Len Ford, Leslie O'Neal DT: Bob Lilly, Pat Williams LB: Bill George, Dave Robinson, Joe Fortunato CB: Champ Bailey, Mel Renfro S: John Lynch, Jimmy Patton P: Tom Tupa K: Gary Anderson Special Teams: Steve Tasker Coach: Don Shula 4. Fokai QB: Peyton Manning RB: Ladainian Tomlinson FB: Roger Craig WR: Cris Carter, Issac Bruce TE: Kellen Winslow OT: Chris Samuels, Jordan Gross OG: Steve Wisniewski, Stan Jones C: Len Hauss DE: Neil Smith, Fred Dean DT: Ray Childress, Michael Dean Perry OLB: Junior Seau, Cornelius Bennett MLB: Mike Curtis CB: Roger Wehrli, Dick LeBeau FS: Darren Woodson SS: Gary Fencik K: George Blanda P: Craig Hentrich KR/PR: Antwaan Randle El Coach: Bill Walsh 5. Bored Coach- Mike Holmgren QB- Ken Anderson RB- Lenny Moore FB- Tom Rathman WR- Randy Moss, Harold Carmichael TE- Charlie Sanders OL- Willie Roaf, Richmond Webb, Mike Munchak, Bob Kuechenberg, Jeff Van Note DL- Leo Nomellini, Elvin Bethea, Claude Humphrey LB- Lawrence Taylor, Harry Carson, Dave Wilcox, Sam Mills DB- Mel Blount, Larry Wilson, Jimmy Johnson, Joey Browner K- Garo Yepremian P- Tommy Davis KR/PR- Ollie Matson TEAM HAS BEEN ICED6. Next USC #55 Head Coach: Don Coryell Quarterback: Dan Marino Running Back: John Riggins, Brian Westbrook Wide Receiver: Don Hutson Wide Receiver: Steve Largent Wide Receiver: Lance Alworth Tight End: Ozzie Newsome Guard: Lou Creekmur Guard: Tackle: Tackle: Center: Dwight Stephenson Defensive End: Defensive End: Defensive Tackle: Art Donovan Defensive Tackle: Outside Linebacker: Andre Tippett (I think he was OLB but if not, then put him at MLB) Outside Linebacker: George Connor Middle Linebacker: Cornerback: Cornerback: Free Safety: Yale Lary Strong Safety: Kicker: Punter: Returner: Jim Thorpe 7. CanadianChris Offense- QB: Bart Starr RB: Barry Sanders FB: "Ironhead" Heyward WR: James Lofton, Art Monk TE: Shannon Sharpe OT: Art Shell, Bob Brown OG: Larry Little, Chris Hinton C: Jim Langer Defense- DE: L.C. Greenwood, Leonard Marshall DT: Merlin Olsen, Joe Klecko LB: Sam Huff, Nick Buoniconti, Jesse Tuggle CB: Willie Brown, Merton Hanks S: Eugene Robinson, Carnell Lake Special Teams- KR/PR: Billy "White Shoes" Johnson K: Morten Andersen P: Sean Landeta Coach- Marv Levy 8. 909 Coach: Mike Shanahan QB: Joe Montana RB: Earl Campbell FB: Mike Alstott WR: Tim Brown, John Stallworth TE: Keith Jackson T: Flozell Adams, Willie Anderson G: Russ Grimm, Mark Schlereth C: Jim Otto DE: Jack Youngblood, Lee Roy Selmon DT: Bryant Young, Corey Simon ILB: Ray Nitschke OLB: Karl Mecklenburg, Peter Boulware CB: Lester Hayes, Charles Woodson S: Brian Dawkins, Lawyer Milloy P: Shane Lechler K: Jan Stenerud KR: Dante Hall 9. jwest27 Offense: QB: Roger Staubach RB: Priest Holmes FB: Bronko Nagurski WR: Torry Holt, Harold Jackson TE: Antonio Gates OT: Jim Parker, Ron Mix OG: John Hannah, Guy McIntyre C: Matt Birk Defense: DE: Reggie White, Trevor Pryce DT: Ernie Stautner, Richard Seymour MLB: Joe Schmidt OLB: Bobby Bell, Joey Porter CB: Lemar Parrish, Louis Wright S: Johnny Robinson, Troy Polamalu Special Teams: Desmond Howard K: Jeff Wilkins P: Brian Moorman Coach: Vince Lombardi 10. Broward83 Coach: Bum Phillips QB: Warren Moon WR: Fred Biletnikoff WR: Dave Casper WR: Don Beebe RB: Paul Hornung TE: Mike Ditka LT: Jumbo Elliott RG: Dick Stanfel LG: Mark May RT: Rayfield Wright C: Mark Stepnoski DT: Ed "Too Tall" Jones, Albert Haynesworth DE: Dexter Manley, Mario Williams LB: Wahoo McDaniel, Hardy Nickerson, DeMeco Ryans DB: Aaron Glenn, Dunta Robinson, Pacman Jones, Michael Huff KR/PR: Andre Davis K: Jason Elam P: Matt Turk 11. Vitamin X Coach - John Madden QB: Brett Favre RB: Marshall Faulk, Steve Van Buren FB: Larry Centers WR: Andre Reed, Mark Clayton, Steve Van Buren TE: Brent Jones LT: Matt Light LG: Randy Cross C: Tom Nalen RG: Howard Mudd RT: Jimbo Covert DL: Willie Davis, Harvey Martin, Dave Butz, Lou Groza, Gilbert Brown ROLB: Chuck Howley RILB: Randy Gradishar LILB/LOLB: Ted Hendricks LOLB/DE: Kevin Greene DB: Rod Woodson, Rodney Harrison, Jack Tatum, Sammy Baugh P: Sammy Baugh K: Lou Groza PR/KR: Steve Van Buren 12. JustJohn Offense: QB: Tom Brady RB: Marcus Allen FB: Larry Csonka T: Erik Williams, Tra Thomas G: Nate Newton, Adam Timmerman C: Dermontti Dawson TE: Tony Gonzalez WR: Otis Taylor, Cliff Branch Defense: DE: Clyde Simmons, Patrick Kerney DT: John Randle, Jamal Williams OLB: Derrick Thomas, Clay Matthews MLB: Zach Thomas FS: Steve Atwater SS: Donnie Shell CB: Aeneas Williams, Troy Vincent P: Chris Gardocki K: Adam Vinatieri KR/PR: Wes Welker Coach: Jimmy Johnson 13. Smartly Pretty QB: Joe Namath RB: Curtis Martin FB: Lorenzo Neal WR: Marvin Harrison, "Bullet" Bob Hayes, Keyshawn Johnson TE: Jay Novacek OT: Bruce Matthews, Rosey Brown OG: Tom Mack, Ruben Brown C: Jim Ringo Defense- DE: Deacon Jones, Mark Gastineau DT: Cortez Kennedy, Dana Stubblefield LB: Brian Urlacher, Terrell Suggs, Lance Briggs CB: Everson Walls, Erich Barnes S: Deron Cherry, Nolan Cromwell Special Teams- KR/PR: Dave Meggett P/K: Tom Dempsey Coach-Bill Parcells 14. Tzar Lysergic Coach- Tom Landry QB- Michael Vick RB- Tony Dorsett, Bo Jackson TE- Ben Coates TE/H-Back- Billy Cannon End- Bill Hewitt OT- Mike Kenn, Bruce Armstrong OG- Curley Culp, Bruce Bosley C- Alex Wojciechowicz DL- Bruce Smith, Doug Atkins, Russell Maryland, "Tombstone" Jackson LB- Jack Lambert, Chuck Bednarik, Jason Taylor DB- Darrell Green, Paul Krause, Bob Sanders, Jack Christiansen KR/PR- Eric Metcalf K- Mike Vanderjagt P- Ray Guy TEAM HAS BEEN ICED15. nogoodnick Coach- None QB- Otto Graham RB- Emmitt Smith WR- Terrell Owens TE- OT- Jonathan Ogden OG- C- Mel Hein DL- Michael Strahan, Jevon Kearse, Tommie Harris LB- Derrick Brooks DB- Ronnie Lott, Roy Williams 16. MFerXtreme87 Offense: QB: John Elway RB: Jerome Bettis FB: Marion Motley WR: Charley Taylor, Charlie Joiner TE: Jackie Smith OT: Gary Zimmerman, Dan Dierdorf OG: Steve Hutchinson, Bill Fralic C: Kent Hull Defense: DE: Richard Dent, Carl Eller DT: Kevin Williams, Keith Millard MLB: Mike Singletary OLB: Greg Lloyd, Chris Hanburger CB: Lem Barney, Albert Lewis S: Kenny Easley, Sean Taylor Special Teams: K: Matt Stover P: Jeff Feagles KR/PR: Gale Sayers Coach: Hank Stram 17. HarleyQuinn Coach: Bill Belicheat Offensive Style: Run and Shoot QB: Steve Young RB: Billy Sims, Neal Anderson WR: Paul Warfield WR: Don Maynard WR: Sterling Sharpe WR: Herman Moore LT: Jim Lachey LG: Mike Michalski C: Mick Tingelhoff RG: Jerry Kramer RT: Forrest Gregg Defensive Style: 3-4 LDE: Trace Armstrong NT: Henry Thomas RDE: Chris Doleman LOLB: Rickey Jackson LILB: Bill Romanowski RILB: Chad Brown ROLB: Bill Bergey LCB: Rolland Lawrence FS: Darren Sharper SS: Tim McDonald RCB: Deion Sanders KR/PR: Brian Mitchell P/K: Eddie "Money" Murray 18. Brooklyn Zoo Coach: Chuck Noll QB: Terry Bradshaw RB: Eric Dickerson WR: Raymond Berry, Jimmy Smith, Lynn Swann TE: Todd Christensen, Mark Bavaro T: Joe Jacoby G: Ed Budde C: Jay Hilgenberg G: Shawn Andrews T: Winston Hill DE: Randy White, Charles Mann DT: Howie Long, Dan Hampton LB: Dick Butkus, Robert Brazile, DeMarcus Ware DB: Willie Wood, Ty Law, Ronde Barber, Dick Anderson P/K: Nick Lowery KR: Devin Hester TEAM HAS BEEN ICED19. Jorge Gorgeous QB - Dan Fouts RB - Terrell Davis FB WR-Andre Rison WR - Irving Fryar TE - Jeremy Shockey LT - Anthony Munoz LG - Larry Allen C - Mike Webster RG - RT - DE - Simeon Rice DE DT - Warren Sapp DT - OLB - Shawne Merriman OLB - MLB - Ray Lewis CB - Emmitt Thomas, Eric Allen S -Emlen Tunnell 20. TheOriginalOrangeGoblin Coach: Tony Dungy QB: Johnny Unitas RB: Franco Harris WR: Chad Johnson, Rod Smith, Gary Clark TE: John Mackey T: Tarik Glenn G: Joe DeLamielleure C: Jeff Saturday G: Gene Upshaw T: Ron Yary DE: Dwight Freeney, William Fuller DT: Joe Greene, La'Roi Glover LB: Jack Ham, Pat Swilling, Chris Spielman CB: Mike Haynes, Bobby Boyd S: Ken Houston, Cliff Harris K: Ryan Longwell P: Todd Sauerbrun ST: Bobby Mitchell

Hey y'all, sorry I missed my pick, I take The Critic, explain later!

I take Hot Rod and Field of Dreams. Explain later.

Hey niggas, sorry I missed my pick. I'll update with a picture later, but I take Jeremy Shockey.

Emmitt Thomas - DB 5x Pro Bowl selection (1968, 1971, 1972, 1974, 1975) 3x All-Pro selection (1971, 1974, 1975) 3x Super Bowl champion (IV, XXII, XXVI) Chiefs Hall of Fame Kansas City Chiefs Career Interception Leader with 58 INT 58 INT yards 937 Touchdowns 5 A great corner who will let me shift Emlen back to safety, his natural position.

Having started this thing, I vote nay.

Uhh... can you do that? But yeah, Emlen is on MY team, sucka.

Return of the Jedi - Richard Marquand - 1983 Well, that knocks out the Star Wars trilogy for me. Happy to have it.

I will need to J' it on this island, so I am taking The Red Shoe Diaries Thats right.

WR Irving Fryar Receptions 851 Receiving Yards 12,785 Touchdowns 84 5x Pro Bowl selection (1985, 1993, 1994, 1996, 1997) 2x All-Pro selection (1985, 1994) I'm a little surprised he hasn't been taken (and maybe he has, though I did a search...) Durable player and a great guy who can haul in passes from Fouts.

I've got a guy three years into his career (Shawne Merriman.) I think he's got a three year body of work that is up there with the greatest. If he becomes a washout in a few years, it isn't going to take away the All-Pro selections... that's how I see it. My pick is forthcoming!

Jorge Gorgeous replied to MrRant's topic in Sports

Oh, tell me how my ass tastes. I'm excited from a new uniform/logo standpoint. It will be fun for 10-30 games. After that? I hope this franchise fails and Dama gains a bunch of weight or something. Fuck... OKLAHOMA CITY! MEMPHIS! ITS THE NBA ON NBC!

Hey Franchise, where can I get a template like that to chart out my team?

Sorry about missing my pick, yozzles, been way busy. Marco Tardelli

Hey guys, sorry I missed my pick... I've been busy outta my mind lately. Schindler's List - 1993 - Spielberg I've watched this movie once. When it was over I cried for two hours.

DE Simeon Rice Second fastest to 100 sacks, scary good defensive end. 3 Pro Bowls, 1 All Pro, I believe, but scarcely a better prime to be found.

Uhhh, alright. Nic's final selection is S Roy Williams Bronko Nagurski Trophy (2001) Jim Thorpe Award (2001) 5x Pro Bowl selection (2003, 2004, 2005, 2006, 2007) All-Pro selection (2003)

I dont think it's your turn, Darthtiki... I think it's Ravenbomb's turn....