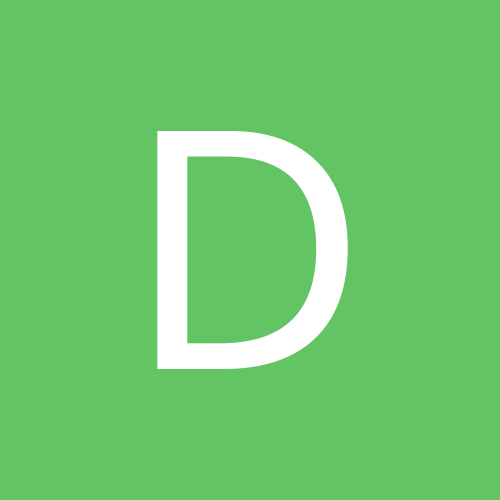 Content count

805

Joined

Last visited
Everything posted by DarKnight
I didn't think Bale underperformed at all. If I had to pick the underperformer, it was probably Maggie Gyllenhaal. I wouldn't say its her fault, as I don't think Rachel was a very good character. She was better than Katie Holmes, but then again, that was expected.

Well, I think The Dark Knight is the first comic book movie to jump out of the genre, as the movie is more like a crime drama rather than a comic book superhero film. Thats the reason why the movie has probably been getting oscar buzz, not just for Ledger, but maybe even for best picture. I also agree that Eckhart deserves oscar worthy praise too, but that will be kind of hard since he's in the same film as Ledger's Joker.

Eh, I think Doane would have the same problem that Daivari has. Since people saw him as a jobber in WWE, no one will take him seriously no matter what.

That Sarah Palin stuff has been horrible the past few weeks, but for some reason this week, I thought it was funny. Maybe its because this time, I could actually tell that it was supposed to be a joke, but the last few weeks, I thought they were really serious about having her show up.

Elijah Burke? Ugh. I've only seen maybe 2 good matches with him, the ones against RVD and CM Punk. Otherwise, I thought he was terrible, even in OVW. Matt Morgan could be a good main eventer though, but having him around Abyss isn't really doing him any favors right now.

Yeah, but a sequel would be pointless if the studio couldn't get the rights to other characters like Ash from Evil Dead, or Michael Myers.

Yes, it really does have to do with the money, as someone mentioned earlier, its just short of a billion dollars worldwide. I have to wonder, will the academy try to make up excuses to not nominate The Dark Knight for best picture?

Cool. There's some movies that I don't really think are needed for blu ray, so thats good to know.

Well, the one I see at stores is the one that has the blue frame, and its actually kind of small looking, and normally sells for about $299.99. Isn't the blu ray player supposed to make regular DVDs look HD? I know they probably won't look as good as the blu ray discs, but I thought it was supposed to make them look better.

Yeah, I love Sony, and pretty much anything electronic I get is Sony, so I figured I might as well should get the blu ray player from the company that invented it.

Yeah, Jarrett is to blame on quite a bit of stuff, I guess. I don't know if it was fact that Jarrett was the one responsible for Pacman Jones coming in, but it seems pretty likely, since he's friends with the Titans, and he may have set up the ring in Pacman's backyard.

Well, the one that I'm getting is the normal Sony one. Is that good?

Well, I'm pretty sure others in TNA are to blame too for dumb creative things, but having Russo employed in their company does automatically make him the guilty party for the bad creative ideas. About the only awful creative idea that I think Russo wasn't involved in the past 2 years or so, was maybe the Pacman Jones stuff. I think that was actually Jarrett's idea. But that Sting/Abyss feud HAD to be Russo. It was too bizarre and silly for anyone else to come up with.

The Team X-Tacy name is not only bad because its a horrible pun on the X-Division, but also because they would have been making an obvious drug reference that probably someone only like Russo would find funny.

I'm getting a Blu Ray player for Christmas and this will definitely be one of the movies I want for it. I really want to see what the IMAX scenes look like on Blu Ray.

I'm guessing you didn't like the scene where Harvey Dent wakes up in the hospital then? I thought that was the best music part of the movie, where you see him screaming, and the siren noise gets very loud.

Well, I actually wanted HHH to get the title shot because we know he will just lose to Edge at the PPV, and the Jeff push hopefully comes later. I really like how WWE expects me to believe that there is the possibility that HHH and Jeff had the EXACT SAME TIME on the clock for the end of their matches. I mean really, thats like one out of a million chances of really happening!

Well, my prediction was correct. Will Smackdown get better when Edge comes back? The answer was yes, as I thought this show was much more fast paced and better than the shows of the past few months. As for people wondering how they can explain Edge and Vickie being back together, I really don't want them to. I think they just retconned the breakup angle, and pretending it never happened, as it would be hard to follow-up in storyline stuff like Undertaker sending Edge to hell or whatever. Since Edge never said he attacked Hardy, and they said it is still under investigation, anyone else think it could have been Christian or Tomko? This could be a way they debut.

There's a ton of hilarious Scott Steiner videos on youtube that have all of his funny quotes and shit. Yeah, the one with Jackie Gayda is pretty damn funny, and I also like the one at Survivor Series where he says "give me the fuckin mic!" Anyone seen that one video where it was an episode of Thunder and he makes fun of WCW saying they suck and people turn on the WWF to watch Austin? That was classic too.

Its a shame the music score can't be nominated because I thought it was very eerie and effective. I think this movie could be nominated for best picture, but we'll just have to wait and see. I really think this movie should win for cinematography. There were some camera shots in this film that I thought were great, especially if you've seen it in IMAX.

Oh, man I don't know where to begin with my favorite Steiner quotes! One off the top of my head was him talking about Angle saying "Your wife sleeps with me because you just aren't the man you used to be Kurt! Tell your bitch to stop calling me!" I thought that was pretty funny, and I guess in a way, this could be considered the first mention of Karen Angle on TV, even though she didn't debut in the company until a few months later.

Glad WWE decided to sign Tomko after all. Though I think it was mostly because of Christian coming back, as Tomko was asking to go back to WWE a few months ago, and they said no. A stable with Edge, Christian, and Tomko could be awesome. Also, what is with all the Mike Knox love? I mean, I have nothing against him, but I always thought he was pretty bland and boring in the ring.

It is quotes like this that keeps Steiner employed! Another quote I loved from that time, was when he called Tomko a redneck, and told him to get his bags!

I don't understand the angle with the ref either. It must have been in September or so when he got mad at Bashir, and started attacking him. Now, you would think this would lead to him becoming a wrestler on the roster the next week, and challenge Bashir, but no, he is still a ref for another 2 months or so, and I really thought they droppped the angle. Then, they bring it back again, with him attacking Bashir last week. So, why don't they just get it over with, and make the guy a wrestler on the roster?

Just think that this character of Joe that we've seen the past year all started because Scott Hall no-showed a PPV! I really didn't even think Styles was a likeable face this year really, with him basically stealing another man's wife (Karen Angle).