Entry posted by Bored ·
178 views
Well it's been a while since I did one of these. Once I finished the Game 5's I wanted to sit down and watch both Game 6's for 1975 and 1986 in one sitting. With all the other games I'd watch them half hour or an hour at a time but for obvious reasons I wanted to be able to watch those two games without interruption. Problem was I never found a chance to watch either game in it's entirety and ended up forgetting about it for a while but with the 20th anniversary of the Bill Buckner play being today I figured I'd skip ahead to '86 to do an entry on the game and finally got around to watching it yesterday.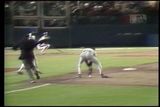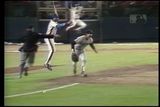 1986 World Series Game 6 - Mets 6, Red Sox 5 10 Innings (boxscore and play account)
-With Buckner up in the first we have the apperance of the parachuter with the "Go Mets" banner. If this were today there'd be phony moral outrage by Joe Buck, or any other announcer, about a fan pulling off such a stunt and they'd make sure to have the cameras shoot something else but here the announcers love it. Ron Darling even gives the guy a little dap while he's being escorted away by the cops.
-Good omens for the Red Sox as they score in the 1st and the first five games the team that scored first won. Also Roger Clemens was 9-0 on five days rest.
-The Mets on the other hand could not feel good about their chances early on as Clemens was dominating striking out six through three and didn't give up a hit in the first four. Even though effective, he was incredibly inefficient with his pitch count, throwing 73 pitches in the first four. He'd throw 137 pitches in seven innings.
-In the 5th after a Darry Strawberry walk, just the Mets second baserunner of the game at that moment, they shoot some crowd shots and to a couple of fans who at first glance of foam "#1" fingers but they are actually foam middle fingers that I think said "Boston Sucks." The announcers don't mention it of course.
-In the 6th with Wally Backman on first, Buckner attempts to deek Backman on a throw to first by pretending it got by him with an laughably bad acting job. He wouldn't have to fake it later.
-In the 8th the announcers for the first time mention the Red Sox last World Series win. As I mentioned in a prior DVD entry not in this series or the '75 series do the announcers ever bring up the "curse." Very much in stark contrast to FOX's coverage of the 2004 series.
-In the bottom of the inning we had a mini, but not really, controversy. With the Mets down by a run, with a runner on first and no out, Dykstra lays down a bunt. Calvin Schiraldi tries to get the lead runner, Lee Mazzilli, at 2nd but his throw pulls Spike Owen off the bag. Owen pitches a fit and John McNamara joins him but replays clearly show Owen's foot off the bag when Mazzilli slid in. Mazzilli would eventually score the tying run on a Gary Carter sac fly.
-In the bottom of the 9th the Mets got the first two runners on. Davey Johnson elected to pinch hit for a 22-year old Kevin Elster (who subbed for Rafael Santana after being pinch hit for earlier) with Howard Johnson. Scully and Garagiola assume he's going to have him bunt, which is silly to think because why waste a pinch hitter to bunt? Johnson strikes out and the Mets end up failing to score. Scully especially harps on this for the rest of the game until of course you know what happened. My thought is Johnson didn't trust Elster to even bunt who looked rattled in the field after misplaying two balls (just one scored an error).
-You know whenever a player who's hit a past, "clutch" homerun and he comes up again in said situation they always play the clip of the past homerun. What usually happens is the player doesn't do it again. So they play Dave Henderson's Game 5, Donnie Moore killing (awww) homerun in the ALCS as he leads off the 10th in this game. Two pitches later...gone. Really cool, completely forgotten moment (Hendu had the best homerun trot) and would have likely won the World Series MVP for Hendu.
-And of course you know what happens in the bottom of the inning to cap one of the most exciting innings in baseball history. By now everyone knows that Buckner could hardly be blamed for everything that happened. If Schiraldi just manages to get one more out it was over. If Bob Stanley doesn't throw a wild pitch to let the tying run score, the sequence of events would changed dramatically. Also even if Buckner fields the ball, there's a 50/50 chance Mookie Wilson beats a throw to first and nevermind that even if he's out the game still goes on to the 11th. But in the end it was that moment that I'm guessing that the "curse" talk picked up steam and the Red Sox fans made themselves into martyrs for the next 18 years.
-Having this game (and the others) on DVD is simply awesome and I'm sure I'll be replaying it in the future. I could listen to Scully's call of the final play forever. The great thing about Scully is that after Knight scores he just shuts up. There's dead air for three and a half minutes with just the sights and sounds of the what just happened playing out. There was no need for words, something today's announcers should learn.