World Series DVDs: 1975 - Game 6
Entry posted by Bored ·
196 views
Now that the college football season is over I finally had a Saturday morning to sit down and watch Game 6 of the 1975 World Series in one sitting and now eventually will be able to finish off all three World Series box sets. For the remaining games I'll do an entry for Game 6 & 7 of the '79 Series and then an entry for both Game 7's of the '75 & '86 Series.
On a side note while I was doing my post-Christmas shopping with some gift cards I received I found another box set of classic games at Best Buy that was put out by A&E Home Video, who did the World Series sets, but this one was not baseball related. I bought College Football's Greatest Games: University of Notre Dame Fighting Irish Collector's Edition. Ya I'm not proud of myself but it was on sale and I haven't seen a set like this before for college football before so I had to pick it up. Not all of the games are true classics as a few are blowouts that were important to Notre Dame but no one else but there a couple of games on the set I think I'll do future write ups for. Anyways moving on to Game 6...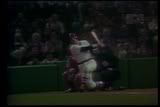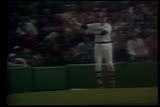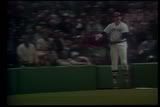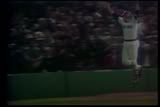 1975 World Series Game 6 - Red Sox 7, Reds 6 12 innings (boxscore and play account)
-This game was delayed three days due to rain which allowed the Red Sox to start Luis Tiant who had been dominate in Games 1 & 4. They flash a graphic at the beginning of the game of Tiant's previous five starts at Fenway: 5-0, 45 IP, 2 R, 1 ER, 20 H, 8 BB, 33 SO, 0.20 ERA. Red Sox had to feel confident after Fred Lynn spotted Tiant a 3-0 lead with a homerun in the first.
-The video quality has been spotty for this and the 1979 set but is very good for this game which is no surprise as I'm sure over the years people have made sure to keep the original footage of this game in good condition.
-Red Sox have a couple opportunities to blow this game open with bases loaded in the 3rd inning and 2nd & 3rd with one out in 4th inning but fail to score.
-Tiant shows his first signs of vulnerability in the series in the 5th when he walks light hitting Ed Armbrister, who was pinch hitting for the pitcher, which will help lead to the Reds first runs of the game. In this innings is the famous play when Lynn slams into the wall trying to catch a Ken Griffey flyball and appears to have been seriously hurt but stays in the game. Griffey ended up with a two-run triple.
-The game starts to reach it's classic level in the bottom of the 8th with the Reds up 6-3 and four outs away from the championship, when with two on Bernie Carbo hits his second pinch hit homerun of the series to tie it up off Reds' relief ace Rawly Eastwick.
-Red Sox nearly win it in the 9th as they loaded the bases with no one out but on a shallow flyball to left hit by Lynn, Don Zimmer sends Denny Doyle from 3rd and he is gunned down by George Foster at the plate for the double play.
-Some almost controversy in the top of the 11th as Pete Rose fakes his way into a HBP. Carlton Fisk argues but to no avail and replays show the pitch did not hit Rose. This would be erased when Dwight Evans makes a sensational catch to potentially rob Joe Morgan of a homerun (might have hit the wall if he doesn't get it) and doubles Griffey off of first to end the inning.
-Of course we know what happens in the 12th. It is still bizarre watching games like this and seeing fans among Fisks' teammates as they mob him at homeplate as we were still several years away from when MLB started to crackdown on fans running on to the field.
-This was one quite the hearbreaker for the Reds for blowing the three run lead in the 8th, Evans robbing Morgan in the 11th, and the Fisk walk off this could have been a crippling defeat for a franchise that hadn't won the World Series since 1940 and suffered a tough World Series loss three years earlier against the A's. But as we know it didn't turn out so bad for them.