Steelers DVDs: Super Bowl IX
Entry posted by Bored ·
407 views
As I've mentioned previously I love original televised footage of classic games and I recently added two more DVD sets to my collection one for the Pittsburgh Steelers and one for Oklahoma Sooners football. First off regarding the Oklahoma set, I probably should have actually looked up the scores to the games on the set before purchasing it as only one of the five games was decided by single digits (1976 Orange Bowl), but oh well. There is a bonus feature "The Best of the Barry Switzer Show" which might actually be worth an entry if I ever get around to watching it.
The Steelers set has all five of their Super Bowl victories. Well it was supposed to have all five Super Bowls but my set showed up with no Super Bowl XL disk. Bang up job their NFL! If it had been any of the 70's Super Bowls I would have mailed it back. Since I had no intention re-watching that boring, horribly officiated, Jerome Bettis lovefest I decided not to bother with the hassle of returning it. And also NFL, get off your ass and release a 49ers Super Bowls set already.
Now Super Bowl X and XIII annually make All-Time Great Super Bowl lists and Super Bowl XIV might be one of the most underrated Super Bowls of all-time. But anyone can watch the good games, so I decided to watch Super Bowl IX which is just 60 minutes of the Steel Curtain destroying the Vikings' offensive line.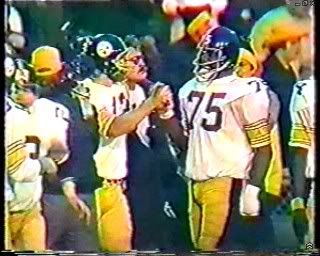 January 12, 1975 - Super Bowl IX: Pittsburgh Steelers (12-3-1) vs. Minnesota Vikings (12-4)
-There were several poor reviews for the set on Amazon due to the video quality of this game and Super Bowl X. The video quality ended up not being quite as bad as some the reviews painted it but it's not very good either.
-Sadly there are no player introductions on the disk and no postgame. Announcers for the game are Curt Gowdy, Al DeRogatis, and Don Meredith.
STEELERS OFFENSE
LT: Jon Kolb
LG: Jim Clack
C: Ray Mansfield
RG: Gerry Mullins
RT: Gordon Gravelle
TE: Larry Brown
WR: Frank Lewis
WR: Ron Shanklin
QB: Terry Bradshaw
RB: Franco Harris
RB: Rocky Bleier
VIKINGS DEFENSE
LE: Carl Eller
LT: Alan Page
RT: Doug Sutherland
RE: Jim Marshall
LLB: Roy Winston
MLB: Jeff Siemon
RLB: Wally Hilgenberg
LCB: Jackie Wallace
RCB: Nate Wright
SS: Jeff Wright
FS: Paul Krause
VIKINGS OFFENSE
LT: Charles Goodrum
LG: Andy Maurer
C: Mick Tingelhoff
RG: Ed White
RT: Ron Yary
TE: Stu Voight
WR: Jim Lash
WR: John Gilliam
QB: Fran Tarkenton
RB: Chuck Foreman
RB: Dave Osborn
STEELERS DEFENSE
LE: L.C. Greenwood
LT: Joe Greene
RT: Ernie Holmes
RE: Dwight White
LLB: Jack Ham
MLB: Jack Lambert
RLB: Andy Russell
LCB: J.T. Thomas
RCB: Mel Blount
SS: Mike Wagner
FS: Glen Edwards
FIRST QUARTER
-Vikings use a 14 man defensive huddle where they would run off three defenders after the Steelers break their huddle, a practice that is of course no longer permitted in today's game.
-On the Vikings first play on offense, Tarkenton completes a pass to John Gilliam on the sideline and as Gilliam is knocked out of bounds he runs over a cameraman who I'm pretty sure was Steve Sabol.
-Steelers would blow two scoring chances in the quarter after getting the ball on the Vikings' 44 and on their own 47. Roy Gerella missed an relatively easy field goal attempt and then the holder bobbled a second attempt.
-Curt Gowdy makes only one mention of Rocky Bleier being a Vietnam vet, playing with shrapnel in his body. I can only imagine how many times a modern announcer would make mention of fact like that during a game if an active player was a veteran. Good thing Tim Tebow isn't a Gulf War II vet.
-Gowdy also brings up the story Terry Bradshaw being pissed during the week because the media kept bringing up how he was viewed as a dumb player. Hasn't he pretty made a career out of this?
SECOND QUARTER
-Lynn Swan and John Stallworth were both in their rookie year and were not starters but they take almost every snap at wideout from the second quarter on.
-Vikings get their first opportunity to score after Bleier fumbles and the Vikings recover on the Steelers 24. But as would be the case through the much of the game, the Vikings could not move the ball and settle for a field goal attempt but kicker Fred Cox hits it wide right.
-After the Steelers were forced to punt on the ensuing possession, Vikings punt return Sam McCullum would field the punt on a hop inside his own 10. Al DeRogatis thinks it was a bad decision but there were two Steelers near by when he fielded the punt and I think they probably would have downed it inside the 5 anyways. Nevertheless this does lead to the first score of the game when what appears to be miscommunication between Tarkenton and fullback Dave Osborn as Tarkenton pitches it but Osborn doesn't even attempt to grab it. The ball gets kicked back, Tarkenton reaches the ball just before the goal line but slides into endzone where he is touched down by Dwight White for a safety.
-On the Vikings next possession, they put together their best drive of the game reaching the Steelers 25. But on a Tarkenton pass over the middle to Gilliam at the Steelers 5, Gilliam attempts to making a leaping grab but he is immediately nailed by Glen Edwards and the ball pops up in their air and is intercepted by Mel Blount. Game heads to the half with a 2-0 score.
THIRD QUARTER
-Huge break for the Steelers on the second half kick. Gerela slips just as he kicks the ball and it ends up being an accidental squib kick. One of the upbacks Bill Brown doesn't field it cleanly and the Steelers would recover on the Vikings 30. Three Franco Harris runs later and it was 9-0.
-There's a bizarre moment on the Vikings next possession. It was 4th and inches on their own 38 and lined up like they were going to run the play but are just trying to draw the Steelers offsides. As Tarkenton tries to draw them offsides a couple of Steelers players start pointing that one of the Vikings lineman flinched, although on the replay it doesn't appear anyone moved, and then the Steelers run across the line. The refs of course blow the play dead but none of them threw a flag. After a quick discussion, there's no false start on the Vikings, no offsides on the Steelers, no timeout was called by the Vikings, and essentially no play. It was like the refs all forgot to throw a flag and when then decided to just say "fuck it, no play." Vikings end up punting.
-Probably the most infamous play of the game happens on the Vikings next possession. L.C. Greenwood deflected a Tarkenton pass, which happened quite a bit in this game, that went right back to Tarkenton who catches it and then throws another pass to a wide open Gilliam for a huge gain into Steelers territory but that's of course that's a penalty. Gowdy doesn't appear to know the rule as he calls it like it's a huge play for the Vikings, all the while Don Meredith tries to correct him during the play. But considering a 14 year veteran in Tarkenton apparently didn't know you couldn't throw two passes on the same play, I guess Gowdy deserves a pass.
-Even though it's only 9-0 after three, the game already felt like a blowout.
FOURTH QUARTER
-Oh but the Vikings actually do have a glimmer of hope. Early in the quarter the Vikings recover a Harris fumble on the Steelers 47 and a pass interference penalty sets them up with a first a goal on the 5. But Chuck Foreman promptly fumbles the ball right back to the Steelers.
-Steelers can't move the ball and Matt Blair would block the punt which the Vikings recover in the endzone for a touchdown. But the Vikings can't do something good without screwing something else up so the kicker Cox shanks the PAT to keep it a three point game.
-The things we take for granted watching football today like knowing how much time is left in a quarter. We don't get a camera shot of the clock here until there is 9:52 left in the game. Although there's no plays missing from the disk, there are several times during the game where the time between a play is edited out so this made it very difficult to figure keep track of how long was left in a quarter.
-The Steelers would put the game away with what was really the only sustained drive of the game by either offense on a 11 play, 66 yard march that at up 7:02 of the clock that ends on a Bradshaw touchdown pass to tight end Larry Brown. There was some mild controversy earlier in the drive on a 30 yard completion to Brown where he appeared to fumble and it was initially ruled the Vikings had recovered but another ref ran in and changed the call. Replay shows that he was clearly down before the ball came loose though.
-Late in the game it's noted that L.C. Greenwood had signed with the Birmingham Vulcans of the short lived World Football League. He ended up changing his mind.
-As the game goes off the air, Gowdy notes that the Steelers were only going to get better. Okay announcers say that almost every time after a team wins a championship but guess one deserves credit when they actually are right in making that proclamation.