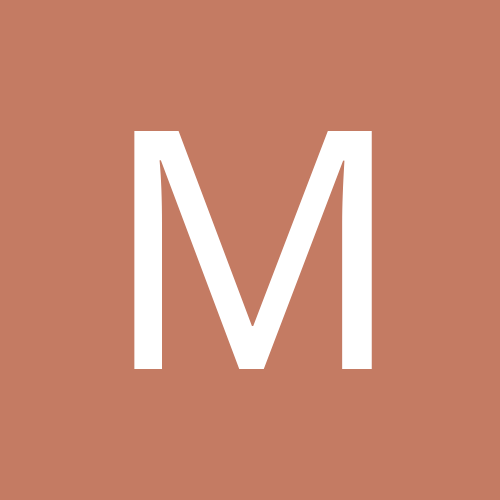 Content count

5614

Joined

Last visited
Everything posted by MillenniumMan831
My picks have been so pitiful I think I'm trailing those that didn't even sign up for the contest.

TNA Against All Odds (February 8, 2009 from the Impact Zone in Orlando, FL) One point for correctly choosing the winners. Five bonus points for picking all seven winners correctly. 1. Abyss vs. "The Blueprint' Matt Morgan 2. "Maple Leaf Muscle" Petey Williams vs. "Big Poppa Pump" Scott Steiner 3. TNA Knockouts Title: ODB vs. Awesome Kong© 4. TNA Legends Title(?): Booker T© vs. Shane Sewell 5. TNA X Division Title: Eric Young vs. Alex Shelley© 6. TNA WORLD TAG TEAM CHAMPIONSHIP MATCH "Black Machismo" Jay Lethal & Consequences Creed vs. Beer Money, Inc. © BONUS (1pt): Who will be pinned? Creed 7. MAIN EVENT FOR THE TNA WORLD HEAVYWEIGHT CHAMPIONSHIP Brother Ray vs. Brother Devon vs. Kurt Angle vs. Sting© BONUS (1pt): Who will be pinned? Devon ADDITIONAL BONUS (1pt): If Samoa Joe appears, who will he attack? Kevin Nash

That's what the bitch gets for picking a fight w/ the Man of 1,004 Holds. Give Jericho a bonus for not catering to the sycophants after the show.

Didn't watch the main event but other than a fun battle royal to start, that show was blah city.

MillenniumMan831 replied to The Truthiness's topic in TNA Wrestling

The only AAO match I'm looking forward to in the slightest is Booker/Sewell mostly because I see so little TNA that Sewell hasn't even begun to get on my nerves yet, if he will at all.

Lesnar was GOLD when they turned him heel in 03 up until his departure. He was the meanest motherfucker ever in a sombrero in his feud w/ Guerrero.

Even when Lesnar was a face, he looked and came across like a mean bastard that would beat the shit out of anyone for free. Lashley looked and came across like a nice guy. Not good if you're going to be a 280lbs roid freak w/ a high voice.

It does sound ridiculous, and at this point he doesn't have the charisma to either cancel it out or use it to his advantage.

One week you have the 2 sword swallowers, the next it can be the midget setting shit on fire w/ his tongue, followed by the big oaf who swings a heavy ball hanging by a chain w/ his ears. They can have Kizarny go over every week via interference or just a plain ol distraction from the freaks. That way, you get the even steven booking that makes Vince salivate. JR: Can ya blame Chavo, he thought he was going to be stabbed w/ that 3 foot sword Tazz: Never see anything like that in Brooklyn heh heh

I mark out for "wide variety"

I think Kizarny would be well served to actually bring some carnival freaks to the ring if his gimmick has a hope in hell of getting over. Preferbly different freaks every time until one (or more) sticks . . . like the sword-swallowing lady from his vignettes.

MillenniumMan831 replied to Hunter's Torn Quad's topic in TNA Wrestling

I thought he was implying that virtually everyone sat through Impact so they could rant about it.

MillenniumMan831 replied to CanadianChris's topic in General Chat

Chiming in late I know, but I had thought he was already dead, so... Indians front office employee: This guy here is dead. Rachel Phelps: Cross him off then.

I can just imagine Tommy Dreamer successfully politicking to the higher-ups to continue to lose despite the creative team insisting that he win here and there.

I just assumed he was retaining it since a belt was never actually shown.

I'm actually relieved they're not starting at 1986. I really don't feel like going through the road to WrestleMania III all over again. The archive is updated. Always great to hear Stevie Ray doing commentary (Storm/Konnan). Unfortunately, I didn't catch him referencing yaks. Speaking of which (commentary, not yaks), I got a chuckle out of this Monsoon/Heenan exchange during Tito's entrance for his match vs Flair . . . Heenan (half-serious, half-smartass tone): He's always in great shape, knows how to wrestle, knows how to fight, does his homework, championship caliber Monsoon: Now you're going to bury him Heenan: I'm not going to bury him . . . just don't eat dinner at his house, you'll get heartburn. Hart/Tiger Mask was pretty good. Started out a little slow but picked up nicely by the end. One of those matches you see listed on Cawthon's site and wonder how in the world did that play out. Striker imploring the WWE Universe to find out more about Misawa on wwe.com made me laugh. And my o my, was Vince ever PUMPED to start the 5/23 Raw. Whenever he blurts out the word FUN, I smile. The double press slam spot LOD pulled off on Hogan/Tenryu was quite the sight. Hawk looked freaky w/ the bladejob mixed w/ the facepaint. Granted, they went all black & white whenever the camera was tight on the blood. I don't actively like it but it doesn't bother me as much as most I'd imagine. ------------------------------- W/ the spirit of the earlybird getting the worm, here's the 2/9 update a day early: SmackDown - Carlito vs. Rey Mysterio October 14, 2004 | Approx. run time: 13 mins. We head to England for a more recent match between Carlito and Rey Mysterio. The United States Championship is on the line. Who will board their plane back to the States with the Championship? Tokyo Dome - Mr. Perfect/Rick Martel vs. King Haku/Jumbo Tsuruta April 13, 1990 | Approx. run time: 12 mins. Matt Striker and Josh Mathews return to commentary for another memorable encounter from Tokyo. Will Hall of Famer Mr. Perfect lead his team to victory or can Japanese Legend Jumbo Tsuruta get a win in front of his home crowd? Bonus Feature: Alternate commentary from Matt Striker and Josh Mathews Home Video - Rockers vs. Rougeaus October 13, 1989 | Approx. run time: 16 mins. Witness a fantastic tag team encounter from Paris. Both teams will need the crowd's support in this match, but only one will win them over. As you will see, the WWE Universe will be part of this match like never before! IWGP World Champion The Great Muta vs. Masahiro Chono January 4, 1993 | Approx. run time: 15 mins. Catch this great match from the WCW Japan Supershow. While there's been limited exposure of these two Japanese stars in the past on WWE.com Legacy, you can now relive one of their most classic battles in Japan. Prime Time Wrestling - Rockin' Robin vs. Sensational Sherri November 8, 1988 | Approx. run time: 16 mins. WWE.com Legacy heads to Paris,to see Rockin' Robin challenge the WWE Women's Champion Sensational Sherri for the title. Will the title change hands overseas? Watch to find out. The Fink's Hall of Fame Selection: Ernie Ladd vs. Bruno Sammartino March 1, 1976 | Approx. run time: 10 mins. Ernie Ladd is featured this week by The Fink. Watch Ladd try to defeat one of the toughest opponents to ever grace a WWE ring, Bruno Sammartino. Which Legend will leave Madison Square Garden the winner? Introducing: Piper's Pit February 9, 2009 | Approx. run time: 7 mins. "Rowdy" Roddy Piper sits down with WWE.com Legacy to discuss the most popular talk show in WWE history: Piper's Pit. Not only will you visit two of the earliest Pit's, you'll hear exclusively from Roddy Piper which one was his least favorite. This candid interview can only be found on WWE.com Legacy. Bonus Features: Exclusive interview with Hall of Famer, Roddy Piper. Legacy of the Intercontinental Championship: Part XX February 9, 2009 | Approx. run time: 42 mins. The 20th edition of Legacy of the Intercontinental Championship features Razor Ramon defending the title against some of his toughest challengers ever. King Kong Bundy and Jeff Jarrett are only two of the threats. Will the Bad Guy still be champion by the end of the show? IC Title - Razor Ramon vs Jeff Jarrett - Coliseum Video 10/19/94 (Wham Bam Bodyslam) Razor Ramon vs Brooklyn Brawler - SuperStars 12/13/94 . . . Yes, really IC Title - Razor Ramon vs King Kong Bundy - Coliseum Video 12/14/94 (Brawl in the Family) IC Title - Razor Ramon vs Owen Hart - Raw 1/9/95 Wrestling Challenge: Episode 33 April 19, 1987 | Approx. run time: 34 mins. The most popular stars of the '80s compete this week on Wrestling Challenge. Catch Koko B. Ware, Greg Valentine, "Hacksaw" Jim Duggan, Jake "The Snake" Roberts and others in action. Plus, you never know who's going to be interviewed backstage. You don't want to miss Wrestling Challenge. Raw: Episode 65 May 30, 1994 | Approx. run time: 38 mins. Crush and Tatanka are going to battle it out for the final spot in the King of the Ring Tournament. Who's going to get one step closer toward the prestigious crown? Jerry Lawler has a plethora of guests this week on the King's Court as Bret Hart, Shawn Michaels and Diesel all pay him a visit.

Per Legacy, they're just airing Hart/Austin. The sicko in me really wants to see Yokozuna vs The Sultan. As for SuperStars, they'll be starting at December 1990 as to not have to blur the blue banners.

Regarding Venis, I think Rude's character evolved past the whole hip-swiveling What I'd Like to Have Right now shtick so I figure a Rude/Venis feud would only come to play once Rude has run his course in the main event picture if that's where he would have started.

Can Tony Romo win the big game?

None & nil I would think. Especially since they went all out to make sure the RR matches from 04-07 were not offered.

Classics? You're talking about Classics? You kiddin' me? Hello! You post to win the thread. You post to win the thread! You post to win, and I don't care you don't have any wins, you go post to win. When you start telling me it doesn't matter, then ban him, get out!

He had to work for everything he has earned.