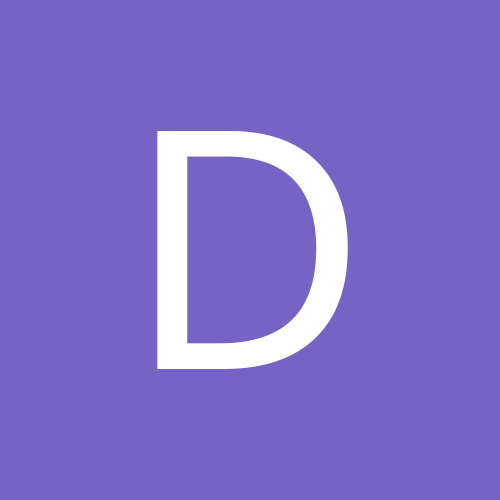 Danville_Wrestling
Members
Content count

1705

Joined

Last visited
Community Reputation
0
Neutral
Contact Methods
AIM
MSN
Website URL

http://www.geocities.com/kyextemper

ICQ
Danville_Wrestling replied to EVIL~! alkeiper's topic in Sports

Danville_Wrestling replied to CanadianGuitarist's topic in Sports

A story that isn't being discussed much is that Padraig Harrington will be going for a third consecutive major championship. While I think that it's a long shot that Harrington wins the tournament, I'm surprised that many commentators who are already previewing the event are not bringing up this point. I'm very excited to see Greg Norman return to Augusta National and would love for him to make a British Open-like run. Chances are that Norman will miss the cut, but how awesome would it be for Norman to be battling someone like Woods down the stretch on Sunday?

Good point about the U of L and UK crossover. I still root for U of L when they aren't playing UK, especially because I like to watch Pitino coached teams play, but I can see how the other perspective is different. Barring Pitino leaving for Arizona, near year's Louisville-UK matchup is going to be explosive. To my knowledge, wasn't Calipari acquitted of any wrongdoing with what occurred at UMass? Other than that all there have been are rumors of improper recruiting, but one can imagine if he had done anything terribly bad the NCAA would have caught on. Although I know some people say the NCAA didn't care because Memphis was hardly a powerhouse program. Some think UConn is going to get nailed to the wall (maybe even a one year postseason ban) due to the recent recruiting scandal there.

I'm very excited for this hire. Two years ago after Tubby left I argued on this board that UK needed to look at Calipari and some inside of the university admitted during the process that they made a major error in not pursuing him a couple of years ago. I think two years ago the university panicked when Donovan turned them down (followed by Rick Barnes) so they pulled the trigger on a "reach" pick for head coach which turned out to be very flawed. One thing Calipari won't have to worry about is justifying a high spot in the NCAA tournament. The knock on Memphis always was that they played in a weak conference so despite 30+ win seasons the question always arose as to whether they were deserving of a #1 seed. If you put up that kind of mark at UK no one is going to doubt your seeding in the tournament and I agree with the previous poster that it will enhance his recruiting to be @ UK. I do feel bad for Memphis basketball fans, though, because that program definitely will not be the same after this.

Five trips to the Final Four for Izzo, three of them at the expense of Kentucky teams in the Elite 8, unbelievable.

Western Kentucky was the other team (versus Gonzaga in Round 2).... I had Nova in my Final Four. However, my bracket went south thanks to the West Region because I had Memphis coming out of there.

The Gonzaga drubbing wasn't surprising to me considering that they had little answer in the post for North Carolina. I knew that if WKU advanced we would get drubbed in a similar fashion had we advanced out of the 2nd round.

Danville_Wrestling replied to Bored's topic in Sports

Well UK has fired Billy Gillispie as its coach. Word is that the athletics department is making another play at Billy Donovan with some Florida stations reporting that he will be leaving to come to UK and that Anthony Grant will replace him at UF.

I remember that I wanted Ahmed to win the tournament but knew that when they put HHH back in that he was going to win, which angered me greatly. I was always a big Ahmed fan, but even as a mark I knew that he was being significantly depushed after losing that gauntlet match to the NoD at IYH: Cold Day in Hell. I thought the 1997 KOTR tournament was absolute garbage as its one of the smallest KOTR fields in history and one of the worst. Top to bottom the field was Ahmed, HHH x 2, Crush, Goldust, Mankind, Jerry Lawler, and Savio Vega. Ahmed was the biggest name in the field, but compared to the other star power the WWF had at the time there were a lot of noticeably absent names. Owen wasn't there, ditto for Bulldog, Shamrock (I know he had just debuted but maybe he could have played a role), Vader, Pillman, etc. The whole tournament just felt cheap to me and compared to other years I didn't care at all for the KOTR. I think as a fan my interest in the entire KOTR concept from 1995 to when it ended on PPV in 2002 was one of declining interest. I liked the 1996 tournament and 1998 was okay, but the 1997 and 1999 tournaments greatly killed the concept for me.

To me the biggest is King Kong Bundy. You go from a year of wrestling Hulk Hogan in the main event to wrestling midgets on arguably the most historically significant wrestling card of all time. That had to be humiliating. I'd say Bam Bam Bigelow is up there as well, from main event to out of the company, but as a previous poster indicated, Bigelow was hardly a main eventer when he walked into that feud since Bigelow's run near the top was over by the 1993 KOTR. Hell, the guy lost at the previous pay-per-view to a makeshift tag team that should not have beaten he and Tatanka for the tag team belts in that tournament (although I guess in kayfabe land you could say that the Tatanka/Bam Bam team was on the more difficult side of the draw having to dispatch MoM and the Headshrinkers as opposed to Well Dunn and the Heavenly Bodies).

Hercules and Hulk Hogan? They were good friends when Hercules turned face. Just look at Hercules being in the Final 4 @ the 1990 Royal Rumble....or as Hercules called it "The Rumble Royal."

Maybe not the biggest "drop the ball" moment ever, but if Lex Luger won the WWF Championship against Yokozuna at SummerSlam 1993 he could have been a bigger star in the WWF than he ended up being. I still say the booking of that match was one of the more boneheaded things the WWF has ever done.

It's an interesting question I've asked many times, but the Bush machine was able to convince voters in 2004 that if Kerry became president all gay people were going to get married. Since Dean was governor of a state that allowed for civil unions that may have done him in, but I agree that Dean would not have let the Bush machine roll over him as easily as Kerry. I give Bush's victory in 2004 more as a credit to the smackdown Dick Cheney laid on John Edwards in the VP Debate. After the first presidential debate Bush was on the ropes and nearly down for the count, but Cheney helped to correct the ship in the nick of time and saved the race.

1995 was pretty brutal. Ironically enough, that's when I first became a wrestling fan and as an eight year old mark I didn't know any better that what I was watching was so bad. I purchased a 1995 season of Monday Night Raw last year and have been watching it recently and wow, that stuff definitely does not hold up well to me today. I mean for much of that year you had Bret Hart relegated to a feud with Jerry Lawler and you have Jeff Jarrett's IC title run of death from January-July where you just see DQ's every week. Not to mention that they take the star oriented KOTR fields, which included HBK, Undertaker, and Yokozuna and preceded to eliminate all of them in the first round. Of course, Razor Ramon was going to be in that field too and then he got injured. They also really make Bam Bam Bigelow look like a chump that year. No wonder he never recovered from his loss to LT when they had him make a face turn and basically say "Diesel is my friend" every week. There's a great part when HBK returns to beat King Kong Bundy on RAW after he was put out of action by Sid and Bigelow is clearly the odd man out as the former tag champs celebrate between themselves.

I always thought Yokozuna's Bonzai Drop was killer as a kid. I don't think anyone ever kicked out of that did they?