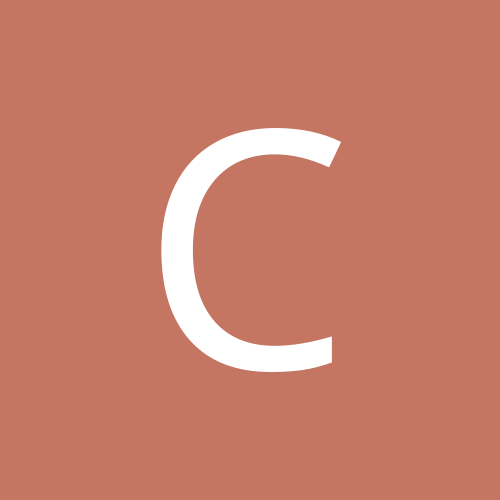 Cheech Tremendous
Members
Content count

6137

Joined

Last visited
Everything posted by Cheech Tremendous
Seriously. It's more of a hassle having to deal with her now than it ever was when she was here. Do we really need to endure another Patrick/Boff incident down the road just so we can say that the banning stuck? If it's this important to her, I say let her back. I'm not even a Leena supporter. Hell, she HATES me. I'm just sick of fighting it. We let worse post here every day.

I have about 30 pages left in Chuck Palahniuk's Survivor. The style of this book is nearly identical to Choke. Do all of his books sound exactly the same? I can imagine Choke, Fight Club and Survivor existing in the exact same world. Even the main characters seem similar. I really enjoy his writing style and the stories themselves are just mindless entertainment, but I can't see myself looking into any of his other books if they are just a rehash of "strange guy gets put in awkward situation before something outlandish and unexpected happens."

Well, who's in? This was spurred by a thread in LSD. A lot of us were lamenting the fact that we put on a few holiday pounds this year. Perhaps a little friendly competition will help us get in shape before Spring hits. I'll take suggestions, but I figure we'll do something like 1 month (or more?). We'll report our respective heights and weight now. Each Monday we'll weigh in again and see how much we've moved the dial. I'll post the changes in the first post of the thread. The winner will be whomever loses the greatest percentage of their starting body weight. Therefore, if someone like Pbone loses ten pounds, Hoff would have to drop like 30 (these are rough estimates based on pictures, but I assume they're accurate). Please no shenanigans. This isn't about any type of reward, it's about accountability. EDIT: Week 1 Weigh-In Cheech 195 KOAB 208 Mik 223 Still Fly 253 Fazzle 220 Pbone 160 Cuban Linx 240 DCH 93 Kinetic 140 CanadianChris 291 Cyber Mark 145 Twisted Intestine 170 King Cucarcha 180 Krankor 166 Brody 248 Haws bah gawd 268 I think Dandy, VX and Czech are abstaining despite revealing their weights.

Cheech Tremendous posted a topic in Sports

Can't believe it's that time of year already. I'm positively giddy. Anyways, here are a couple of stories to remind us that, yes, it is in fact spring. Mike Hampton leaves camp (irregular heartbeat) JD Drew's back is acting up

That was really nice of Mike to gulag me for posting in NHB. Thought this was a non-moderated folder for arguing. Apparently not.

What a douche! This is your fucking owner, people!

You run the site! And we are giving you feedback. Member suggestion: Don't tamper with people's private messages.

If you're dissatisfied with this place, the changing of PMs and the total lack of privacy and decency of this board's owner, please send aim messages to MYSTERIOUSONEWDI. He'll hook you up with the new address.

There's a fly in the ointment, shits hittin' the fan, the lion will speak!

Cheech Tremendous replied to TheFranchise's topic in General Chat

Those were some great memories though.

Cheech Tremendous replied to TheFranchise's topic in General Chat

Changing everyone's PMs so they wouldn't find the new board. Good stuff.

My vision is to get the fuck out of this shithole, and post somewhere with intelligent people that have grown out of doing whatever to be popular on a message board. Good luck with that; we've been waiting for you to do this since 2003.

New day, same old Leena is being persecuted bullshit. It's you or Mike, honey and we all know who has the history of fucking with everyone's accounts. Congrats on your new vision of TSM. It's going great so far.

It's not a word filter. I have multiple messages that give the address of the new place and each one of them has been changed to something different. You also have the guys who've had all the text deleted. I don't care if you guys think this is a silly message board or whatever. PMs are private and reading/editing them is a violation of privacy. It's absolutely despicable.

Not that I know of. I'll contact the other guys to see what they know.

There it is, Xavier. Somebody went in and changed it, either manually or with a word filter.

Somebody did do it though. I can provide screencaps if needed.

Un-fucking-believable. Let it go, Leena. Changing PMs is irresponsible, unethical and downright creepy. There is no need to be doing this. There is a community of individuals that would like to have a message board where they can bullshit with one another about sports, pop culture and wrestling. Please stop interfering. We are done with this type of drama and we are done with you. It is not necessary to drag this shit out another five years. Keep this little vestige of wrestling talk and let the rest of us live our internet lives.

I don't think it's ever a good idea, but the ones they declassified were very old. The ones that came out this week were done to specifically make the old staff look bad.

I don't really get what happened. Apparently, Leena's gone already? I'm very uncomfortable with the way this board transition went down and even less comfortable with the way all the old staff topics were moved to GTG. There's a reason this folder is blocked, you know? I think I found a new board where I'll be spending most of my time. If you guys want to de-mod me, then I accept that.

Cheech Tremendous replied to Xavier Cromartie's topic in Brandon Truitt

The fuck is going on? Seriously, I am way too old to be dealing with this kind of bullshit.

It'd be nice to keep this stuff separate from the lumbering monster that is the Campaign 2008 thread. Use this thread to discuss the on-going failures of our economy and any potential solutions. Washington Mutual was seized by the government today. It is the largest banking failure in US history. Article attached below is from nytimes.com.

Currently, I have subscriptions to GQ, Esquire and Details. I graduated to this group of magazines once I realized that I had outgrown Maxim and Stuff (otherwise known as my 18th birthday). GQ and Esquire are both great for the articles and male advice. Details is hit and miss. At times in the past I've been a reader of Rolling Stone and The Source, but I find that neither satisfies my musical interest like they used to. Occassionally I'll grab a Rolling Stone if I'm at the airport and or I am intrigued by an article. In fact, there is a biting article on Artie Lange's downward spiral this month that was fascinating. The author didn't pull any punches whatsoever. I've never been one to subscribe to sports magazines. The internet has basically killed that market dead. So, what, if anything, are you guys reading nowadays?