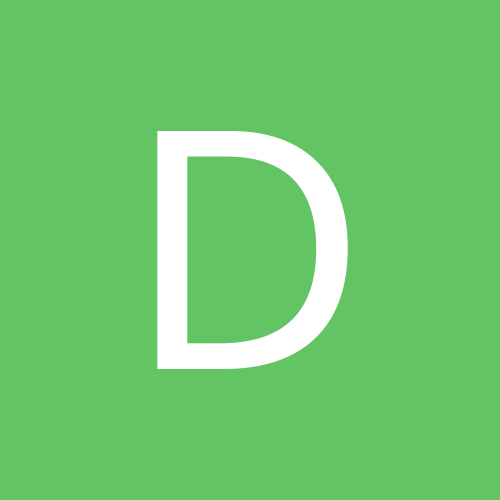 Content count

805

Joined

Last visited
Community Reputation
0
Neutral
Well, I saw this movie today, and I thought it was good, but they pretty much wrecked the Deadpool character. I mean, it seemed like he was only in the movie for like 5 minutes near the beginning, and I thought it was dumb that

Yeah, I've pretty much heard from a lot of critics that characters like Deadpool, Gambit, and Blob are included for no real reason other than just to finally make a film appearance. I did like the one T.V. ad I saw though, where Deadpool sliced the bullet in half with his sword. That was pretty cool.

But yet he did accept LXG. Go figure. I really couldn't have imagined Will Smith playing Neo at all. That would have been weird. That's probably one of the few roles that Keanu Reeves was actually well casted for, considering that he basically plays a confused computer hacker who has no clue what's going on, which he's good at.

Anaconda is one of the best guilty pleasures though, so I can understand why Ebert loved that. If you want to talk about a movie Ebert liked for a reason I can't figure out, how about Spawn? I think he gave that three and a half as well. And wow, what Smues said about Knowing makes this movie look even worse and unintentionally funny more so than that Wicker Man remake. I was pretty much laughing out loud during those spoilers.

I've been making fun of that movie Knowing ever since I saw the first ad! I was like "well, here's Nic Cage in movie about the end of the world, so what's it called?" Then the words Knowing go across the screen, and I'm thinking "Knowing? That's the best title they can come up with?" I think it's kinda sad that Alex Proyas directed that movie, I thought he actually did good stuff. To show you Roger Ebert's state of mind, he gave Knowing 4 stars.

Its really funny how a few years later, how different this feud is now. In 2006, we had Steiner make fun of Joe, but Joe just stays cool and says he will beat Steiner clean in the middle of the ring. Now, in 2009? We have Steiner still making fun of Joe, but now Joe wants to kill him with a weird looking knife, and his actions are being called the "Nation of Violence" for some reason. Very weird. I think TNA at this point isn't worth spending money on. The MEM and Frontline feud is so one-sided, that its hard to want to see any of these PPVs since that feud started. I don't think I've watched any of their PPVs since Bound For Glory.

What doesn't help Watchmen was that the movie didn't get good word of mouth, not even from fans, and the near 3 hour long running time didn't help its box office either. I got a feeling that movie might become a cult hit on DVD though with its director's cut, which will probably make the movie vastly better.

The funny thing about West burying the main event of the night, was that the audience at home is supposed to disagree with West, and we're supposed to look forward to the main event, but considering that the mystery partner ended up being one of Angle's security guards, West had a good point to make fun of it.

SuperJerk may have went off the line a little bit, but I kinda get what he's saying. People are too obsessed with comparing the movie to the book, and while its great to be faithful to source material, there can still be a good movie otherwise with changes made. A book is a book, and a movie is a movie, and they both should be judged on the quality of their own format. In my opinion, Watchmen made one hell of a good book, and one hell of a good movie.

Manu. I find it ironic how over the years people had always been glad Joe is in TNA and not in WWE because they feared that the moment he entered WWE he would become something along the lines of Umaga, or other type of typical wrestling Samoan, and now in TNA it's happening before our eyes. Only it's so much worse than what I would have imagined for him in WWE. I would much rather Joe do this silly shit with his knife rather than playing a bland Umaga type character in WWE. I don't trash TNA for doing these crazy angles like this because I find it much more enjoyable and funny than Raw's really boring and ultra serious tone.

Yeah, I really enjoyed the hell out of Street Kings, very underrated movie.

I bet Rorschach's mask will be explained in the director's cut. I got the feeling there was probably many people in the audience wondering "why does this guy's mask have ink that moves?", and some people were probably puzzled by Bubastis in the film as well. Since they never explained Veidt's genetics technology in the movie, I bet some people were thinking "there's a blue tiger with horns for no reason."

I also liked Don West's little throwaway line "this is lame". Also, did anyone else think it was really weird how the announcers kept calling Samoa Joe's actions the "nation of violence"? What the hell does that even mean? It kinda reminded me of the "one warrior nation"!

way to back up those opinions. good work. Well, I guess I could go into more detail saying why I didn't miss some things. So, lets think about about scenes from the book that weren't in the movie. This seems to include: SPOILERS AHEAD -Dr. Long's subplot with his wife and maybe some extended dialogue between him and Rorschach -The people on the street corner like the newspaper guy, the kid, the lesbians, etc. -Hollis Mason's death and many of his other scenes -The subplot with the detectives -Some of Laurie's scenes and backstory, like the incident with the Comedian at the party -Little bit of Rorschach's backstory about how he got his special ink blot mask and his first days fighting crime with Nite Owl And there may be more things I'm forgetting. Out of that list, about the only things I missed not being in the movie were Hollis Mason's scenes. It would have been nice if these scenes from that list were included in the movie, but really, I didn't miss them all that much, and I thought the movie was more fast paced because of them being eliminated. I don't know, maybe thats just me?

Wow, I must be the only person who read the comic, and really enjoyed the movie. I think people are trying WAY too hard to compare the graphic novel to the movie, and try to remember what was missing and such. I went in seeing the movie today not trying to think about the comic, and I thought the movie rocked. If anything, I think some things in the book being cut out in the movie actually may have helped in some ways. Most of the stuff that was cut out from the book I didn't really miss. About the only thing I did miss from the book not being in the movie was the As for the casting, I thought everyone did a fine job, and Matthew Goode wasn't nearly as bad as people make it out to be. Basically, this movie will end up being one of those "love it" or "hate it" type of films.