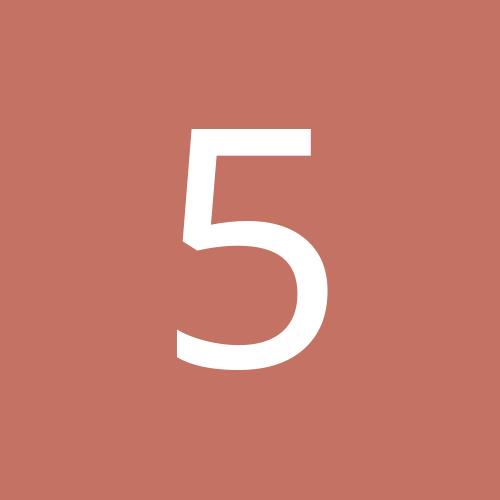 Content count

802

Joined

Last visited
Everything posted by 5_moves_of_doom
I still love watching the Naked Gun movies, even though I know what he did. I never watched the NFL before that though. I agree. If anything, OJ's role is only made better. Can't say the same about Chris' matches, though. I think I'll give it a few years and try again.

5_moves_of_doom replied to Giuseppe Zangara's topic in Music

Hmmm... Aphex Twin -- Selected Ambient Works, Vol. 2 The Minutemen -- Three Way Tie (For Last) Black Flag -- The Process of Weeding Out Leonard Cohen -- Death of a Ladies Man Sonic Youth -- Confusion is Sex (to an extent) Pink Floyd -- Piper at the Gates of Dawn The Residents -- Eskimo (even though it did set the direction for some of their 80's material) James Chance & The Contortions -- Buy Pavement -- Slanted and Enchanted (unless you count the singles/EPs that they did before it) Some of those may be slight stretches, but I think that each of them is relatively distinct from the rest of the artist's discography, whomever that may be. Another good one to note would be Zappa's Jazz From Hell, although many of his albums sound entirely different from each other, so I don't know if that should count.

From what I can tell, by now you've got a much more impressive track record in the fed than I ever did, WC. EDIT: And you have Voltron as your avatar, to boot.

A little late arriving on the scene here, but I too am severely saddened to see the Fed die. However, as many others have stated, I can hardly say that this situation is unexpected. These problems have been slowly mounting for nearly three years now. Anyway, I don't know how much commitment I could really offer in the way of helping out with CC, but if there is anything small that needs to be done (marking matches, etc.) with no one to do it, then I would be glad to help out. Either that, or I could perhaps add to the manpower on the writing side of things.... I'm not too confident that I would fare too well in competition upon returning (haven't been in the loop or even watched wrestling in general in a while...) but at the very least I could show for my matches. I've got a decent amount of free time on my hands these days, so -- regardless of the capacity -- let me know if there is anything that I could do to help out around here in order to ensure that the SWF goes out with a bang.

5_moves_of_doom replied to Nighthawk's topic in Music

The new Residents album, Tweedles, is fantastic. The band has been aging very strangely as of late.

Yes. Where were you when Real Gone dropped a few years ago?

5_moves_of_doom replied to a topic in Music

Definitely one of my top two or three bands. I like More Songs About Buildings and Food and Fear of Music the best, but any of the first five albums could be considered a classic. Little Creatures and True Stories are really fun pop, the two live albums get more plays in my car than the studio albums, and Naked is an okay listen for a big fan of the band's but the quality is really kind of sub-par there. David Byrne solo is much better live than on record, but Rei Momo and his newest album are both awesome (unless you have an aversion to world music.) So are The Catherine Wheel and My Life in the Bush of Ghosts (w/ Brian Eno,) both of which he released while still in TH. Right now David Byrne is working on a Brazilian disco-opera with Fatboy Slim. It's been in the works for a while, but my excitement is still on the rise. EDIT: Oh, and Edwin, you should at least buy one or two more albums before you quit on the T-Heads. Honestly, I would never see Fear of Music being one of your favorites anyway.

5_moves_of_doom posted a topic in Music

Guh One Moment I accidentially posted this without typing out the actual post. Editing... EDIT: Alright, well, eh. Just read the post below.

5_moves_of_doom replied to Giuseppe Zangara's topic in Music

5_moves_of_doom replied to Mr. S£im Citrus's topic in Music

uhm, no. I just noticed this, and yes. Why? John Cale didn't understand this band at all. I hate his production on the original Stooges recording of it, as well as the rest of the album it came from. Too clean and sterile; plus, mixing Iggy's vocals so high in the mix was total idiocy. Why attract attention to the lyrics, which was the one bad thing about the band? Had the s/t been less sanitary and more sleazy like Fun House, I would never have stated the above. I don't really want to be a jerk here, but I'm just going to have to shut you down on that one. First of all, I agree-- he Uncle Tupelo version is better. And the mixing on the first Stooges album IS very unfit for the group's sound. But, John Cale doesn't have as much to do with the poor mixing as you think. John Cale PRODUCED the album, sure, but it should be noted that when he turned the album in to Elektra Records in 1969, the sound WAS slightly sleazier and the vocals WERE lower in the mix. It was actually Elektra head Jac Holzman who took the album, and remixed it in the way that it was eventually presented. He himself raised the volume of the vocals in order to make the sound more commercial and whatnot. So, yeah-- not John Cale.

... Wow, if they do this right, this good be the greatest CGI film yet. And by the looks of this trailer, they're doing it right. Still slightly skeptical, but as a man who will admit to enjoying the third live action film, it obviously won't take too much for me to love this movie.

5_moves_of_doom replied to Giuseppe Zangara's topic in Music

5_moves_of_doom replied to Giuseppe Zangara's topic in Music

Tom Waits (w/o a few albums that I do not have) 1.) Swordfishtrombones 2.) Real Gone 3.) Rain Dogs 4.) Bone Machine 5.) Nighthawks at the Diner 6.) Alice 7.) Frank's Wild Years 8.) The Black Rider 9.) Blood Money 10.) Mule Variations 11.) Closing Time 12.) The Heart of Saturday Night As you can tell, I prefer the material he wrote with his wife, but Nighthawks is just awesome. Pink Floyd 1.) Wish You Were Here 2.) The Piper at the Gates of Dawn 3.) Dark Side of the Moon 4.) Meddle 5.) Ummagumma 6.) The Wall 7.) Saucerful of Secrets 8.) Animals 9.) The Final Cut 10.) Atom Heart Mother 5-9 are pretty shifty and will probably change up a bit sometime within the next few days, but I will always maintain that The Wall is overrated.

5_moves_of_doom replied to UZI Suicide's topic in Music

I.E. all things that define the current generation (late-90s/early-00s)... hence Eminem defining a generation. I don't see how that doesn't make perfect sense. Eminem and Radiohead would be my two top choices. Radiohead isn't quite as popular commercially but their fanbase has gotten pretty huge and really quite rabid. Heck, I tried to buy tickets for their L.A. shows and both of them sold out in under a minute. I think that Radiohead (like the Pixies) won't really be recognized during their creative peak but later on will definitely be recognized as a defining voice of this generation. I really can't say I like them all that much, but to many they are the ultimate forward-thinking rock band of today. Another up-and-comer is the Arcade Fire. Again, I am not too huge of a fan, but their overexposure has made them quite fucking popular. My Dad listens to them, and I have heard many Valley Girl-types listening to them as well. Their sound appeals to a huge demographic, and on top of that their songs are more "anthemic" than most bands these days. Whether or not they even have a chance though really depends on their second album. Outkast is a good one. And I like them a lot better than any other band I've mentioned in this thread, too.

5_moves_of_doom posted a topic in Music

EDIT: Oh dammit to hell. I somehow mistyped the post's title. Is there any way to fix that? Anyway, yes, it should say "Best Album of 1977". This one should be quite a bit more difficult than the "Best Album of 1975" thread that (I believe) Inc started a while back. My top five are, in no order: Kraftwerk -- Trans-Europe Express Wire -- Pink Flag The Clash -- The Clash David Bowie -- Low Television -- Marquee Moon No surprise to me that my list is dominated by punk-related albums... this year was, of course, the year of most of punk's greatest albums. However, one should note that there was quite a bit of awesome reggae going on within this year as well, and some pretty intense funk too. Oddly enough, Iggy Pop's The Idiot is the album that inspired me to start this topic, and yet it didn't make my list. Anyway, as for narrowing those down to my absolute top choice... we will see. I am interested in seeing what everyone else has to say on this topic, because I know that there are quite a lot of black sheep and dark horses from this year that tend to become sentimental favorites of some people.

5_moves_of_doom replied to Man Who Sold The World's topic in Music

I bought the album, and enjoyed it, but would by no means call it great. It does sort of get old at some points, but the best songs can be fantastic, and the "Country Death Song" cover is amusing.

5_moves_of_doom replied to Special K's topic in Music

I wouldn't say it's a bad album, really - just disappointing. As you said. But I've only listened to it once so far, so I can't really make many judgments. I wasn't too impressed the first time around, mainly because it was just Sonic Nurse Pt. 2, but I have a feeling that it could end up growing on me.

How do most KC fans generally regard Beat? When I first bought it a while back I was a bit underwhelmed simply because I was expecting a continuation of Discipline, but since then I have come to love the album. Belew is the man, truly. Also, this music sounds absolutely nothing like any other King Crimson album, though the Talking Heads influence is still evidence. I have a Best Buy gift card left over from Christmas and I think I might just buy one of the double-trio albums. I am interested in seeing whether or not those are any good...

I think I like Red slightly better than Starless and Bible Black, but it's a tough call. The fact that the whole thing sounds like it might break apart at any moment is the best thing about the album, in my opinion. Is Larks' Tongues in Aspic really on the same level as the other two in the trilogy? I almost picked it up today but it was nearly $17 and the Curtis Mayfield album that I wanted was only $10.

I, too, am a fan of the Red cover. It has just the right mix of dead-seriousness and semi-cheesiness. And, as Agent said, its simplicity comes off well. My vote goes to Beat. That cover is ugly and bland as they come. How many "Eras" of King Crimson are there? Four? Or five? I guess it depends on how many line-ups you choose to count in the 70s, since members were going in and out of the group a lot during that time, I believe.

do you perhaps read pitchforkmedia? Not on a regular basis, no, but I have read the "Top 100 Albums of the 1970s" list that you are probably linking my tastes with. Not surprisingly, that list is the list that they've done that I most agree with. I am not pumped enough on Radiohead to be a "Pitchfork kid."

Are you saying that just as a statement, or are you saying that "more complicated" and "bigger" make it better? Because I might disagree with you on that one. In the Court of the Crimson King In the Wake of Poseidon Lizard Islands Larks' Tongues in Aspic Starless and Bible Black Red Discipline Beat Three of a Perfect Pair THRAK ConstruKction of Light The Power to Believe The ones in bold are the albums that I own. I would have to say that I, personally, prefer the Adrian Belew material to anything else that they've done. However, depending on my mood, the first album and the Starless and Bible Black/Red combo can match, if not surpass, any of the Belew records. Of course, the trouble with picking your favorite KC album is that they never sounded the same for longer than one or two albums. By the way, is there anything of note to be found on any of the final three albums?

Yes, I had meant the self-titled Clash album -- sorry, it was in the A.M. when I posted this last night and I must have been pretty groggy, considering the typo in the title and the Clash screw-up as well. Anyway, I had forgot about the Talking Heads (which is a pretty stupid thing to do, considering the title of the album.) Anyway, I'm starting to think that Kraftwerk is my first choice. Fela Kuti's Zombie used to be a favorite of mine, but I haven't listened to it in ages... perhaps I should do something about that. I never really enjoyed about half of the songs on The Sex Pistols record.