World Series DVDs: Game 5
Entry posted by Bored ·
113 views
Starting off topic, but are the Red Sox cursed again or something? Seriously stop with this "Boston Massacre" shit ESPN. Oh my god they won't win the East…just like the last 10 years. They still have a shot at the Wild Card and a shot at ruining the playoffs for me again with another Yankees/Red Sox ALCS.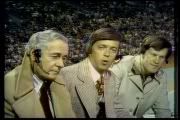 1975 World Series Game 5 - Reds 6, Red Sox 2 (boxscore and play account)
-As mentioned before the video quality of these games has not held up very well. The first few innings of this game the video is waaaaaaaaay too bright but the quality is fairly decent the rest of the game.
-Graphic flashes that Joe Morgan has led the league in "on base average" three of the last four years. Gowdy brings up a quote from during the year, or supposedly it was, that a writer saying something to Joe in the effect of "you get on base a lot" and Joe replied "that's what I get paid to do." Wait it's not hitting a ground ball to the right with a runner on first and less than two out? Say it ain't so Joe, say it ain't so.
-What the hell died on Tom Brenneman's head?
-In the 6th with Morgan on first, Red Sox starter Reggie Cleveland throws over to first base 15 times. Ya that's just a bit excessive. Not surprisingly Cleveland gives up a single to Bench and then a homerun to Perez and gets knocked out of the game, no doubt tiring after all those throws to first.
-Hey a Dick Pole sighting. The announcers mention that Pole had his jaw broken earlier in the year by a line drive. Got to watch out for those balls to the face Dick.
-They bring up that Don Gullet once scored 11 touchdowns in a high school football game. I wonder if Don does any Al Bundy type reminiscing about that game or pitching in four World Series?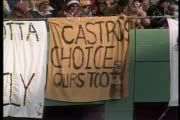 1979 World Series Game 5 - Pirates 7, Orioles 1 (boxscore and play account)
-Yay, the original network graphics show up on this game's footage after they were missing from Game's 2 thru 4.
-Jim Rooker was the surprise starter over Game 1 starter Bruce Kison for the Pirates. Quite the risk going against the eventual A.L. Cy Young winner in Mike Flannagan with the Pirates season on the line. Rooker kept them in the game though and then Bert Blyleven, who apparently has never been good a big game supposedly or whatever lame reason he's kept out of the HOF, pitched four shutout innings out of the bullpen to pick up the win.
-The special Sunday Night Football game on ABC that night between the Rams and Cowboys is hyped through the whole game. Dallas blew out the eventual NFC champs 30-6.
-ABC producers for no apparent reason go back to their Game 1 strategy of showing every single player's wife that they can. Cosell I'm pretty sure got fully aroused when showing Rich Dauer's wife as went into creepy old man mode about how he'd like to sit next to the wives.
-Fidel Castro apparently picked the Pirates to win the Series. And who says communism doesn't work?
-Chuck Tanner's mom died the morning of this game. Now in none of these DVD sets is any pregame coverage included but in the actual game they don't mention this until the 5th inning. Can you imagine if a manger or player's mom died the morning of a World Series game today how much Fox would play up that angle through the whole game? A little later Cosell accidentally says that Tanner's wife died and takes a little bit before he (or probably a producer) corrected him.
-Cosell's gushing over Willie Stargell through out this series really reached Tim McCarver/Derek Jeter type levels. Funny enough though late in the game with Stargell up and Cosell in the middle of again talking about how Stargell is saving the city of Pittsburgh or something, he brings up Stargell being 0 for 6 with RISP so far. So in one minute he goes from being Jeter to A-Rod.
-Here's a rule change, in the bottom of the 8th with runners on first and second Doug Stanhouse's pick off throw trying to get Tim Foli hits Foli in the helmet and bounces all the way into the crowd. The runners are only awarded one base while today it would have been two bases.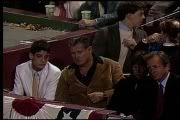 1986 World Series Game 5 - Red Sox 4, Mets 2 (boxscore and play account)
-I guess in 1986 they still weren't having the ceremonial first pitch be thrown for the mound as Ted Williams throws it here from the stands. Williams as you see was with his son John Henry. Did they freeze his head too?
-Another lackluster outing for Gooden here. He never gets in any rhythm as he seems bothered by the relatively cold weather as he's constantly blowing on his hands after almost every pitch. He takes so much time the Red Sox hitters then start to mess with him in the 4th and 5th but constantly stepping out of box right before he gets set.
-Dave Henderson was a having a huge series to this point going 8 for 18 with a two homeruns and then adding a double and a triple (although should have been a double as Strawberry made a weak effort to get to the ball) in this game. He likely wouldn't have been playing if Tony Armas wasn't hurt even though he was the better player at this point.
-Overmatch of the Night: Sid Fernandez vs. Rich Gedman. Six pitches, six swings, six strikes.
-After Strawberry pops out to end a mild Mets rally in the 8th the Sox fans greet him with the "Darrrrrrrrrrrryl" chant. He mockingly tips his cap to them. Joe Garagiola says he hates to see this happen to a young player and wonder what it does to him. Trust me Joe he had bigger problems.
-After three straight drama free games, Mets bring the tying run to the plate in the 9th with a two out rally but Dykstra goes down swinging
-Red Sox up 3-2, Clemens going in Game 6. This one is in the bag…