TSB Sim Season: Divisional Playoffs
Entry posted by Bored ·
205 views
AFC Divisional Playoff: Miami Dolphins vs. Los Angeles Raiders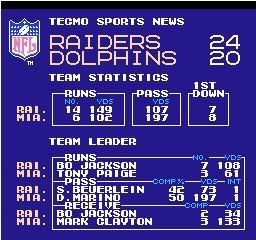 Scoring Summary
LA: Allen 1 Run
Mia: Stoyanovich 20 FG
LA: Jaeger 58 FG
LA: Jackson 75 Run
Mia: Clayton 59 Pass from Marino
Mia: Stoyanovich 45 FG
Mia: Duper 28 Pass from Marino
LA: Horton 23 Pass from Beurlein
After squandering a couple of first half scoring opportunities the Dolphins appeared they would be on their way to another second half comeback playoff win but Steve Beurlein came off the bench for an injured Jay Schroeder to lead a 4th quarter touchdown drive for the win. The key sequence in the game came late in the first half when Mike Hardin intercepted a Dan Marino pass in the endzone and would be followed a few plays later by a 75 yard touchdown run by Bo Jackson to give the Raiders a 17-3 halftime lead.
NFC Divisional Playoff: Philadelphia Eagles vs. Minnesota Vikings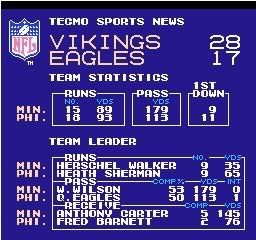 Scoring Summary
PHI: Sherman 14 Run
MIN: Fenney 1 Run
PHI: Ruzek 50 FG
MIN: Carter 21 Pass from Wilson
MIN: Fenney 28 Pass from Wilson
PHI: Barnett 38 Pass from Cunningham
MIN: Carter 56 Pass from Wilson
Wade Wilson threw three second half touchdowns, two to Anthony Carter, as the Vikings continue their surprisingly strong season with a trip the NFC Championship Game. After killing the Redskins with both his arm and legs in the Wild Card round, QB Eagles was unable to break any big runs in this one.
AFC Divisional Playoff: Houston Oilers vs. Buffalo Bills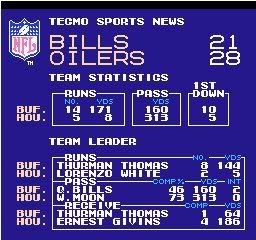 Scoring Summary
Scoreless First Quarter
Hou: Givens 54 Pass from Moon
Hou: Hill 27 Pass from Moon
Buf: Mueller 1 Run
Hou: Givens 57 Pass from Moon
Buff: Reed 14 Pass from Kelly
Hou: Hill 31 Pass from Moon
Buf: Thomas 64 Pass from Kelly
The Houston Oilers go into Buffalo in a playoff game and don't blow a big lead! Warren Moon was unstoppable with four touchdown passes as he leads the Oilers to their first AFC Championship Game appearance in 12 years. Thurman Thomas had over 200 yards in total offense in the losing effort.
NFC Divisional Playoff: Los Angeles Rams vs. San Francisco 49ers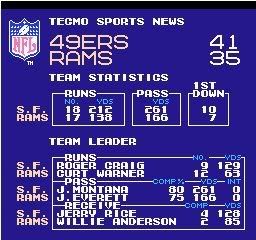 Scoring Summary
LA: Ellard 47 Pass from Everett
SF: Craig 4 Run
LA: Warner 6 Run
SF: Rice 4 Pass from Montana
LA: Warner 4 Run
LA: Ellard 15 Pass from Everett
SF: Rice 55 Pass from Montana
SF: Craig 4 Run
LA: Gary 4 Run
SF: Rice 12 Pass from Montana
SF: Taylor 65 Pass from Montana
In a classic shootout, the 49ers outlast in their divisional rival Rams in overtime 41-35. This game featured some "great" Tecmo computer logic in overtime as after the Rams won the coin toss the 49ers decided to catch the Rams off guard I suppose by going for an onside kick. It backfired and the Rams returned it to the 49ers 35. Then rather than try to move the ball closer the Rams elected to attempt a 52 yard field to win it but Mike Lansford's kick hit the left upright. Joe Montana would hit a wide open John Taylor on the next play for the winning touchdown.