25. #9 in the crap list of sporting depression. Entry posted by Guest ·
191 views
25.
Nine... nine... god, I hate how ESPN does that. But, the one chick in there is sooooo cute.
As I grew up in Buffalo, you can expect that there will likely be many NFL induction in here... as the Bills franchise has been nothing but pain and misery. And we'll start that here with #9.
Everyone has a player they really hate. Everyone has a player they know is just absolutely horrible from the first second they watch them. And then they even exceed your expections. Everyone has that player on their team that makes a gazillion dollars, and basically ruins their franchise. There's people you just look at their picture, and you know they're dumb as dirt, and useless in all facets of life. It's not often that there's one player who manages to combine all these traits into one big steaming pile of suck. But, there's no doubting this dufus easily fits all the aforementioned descriptions...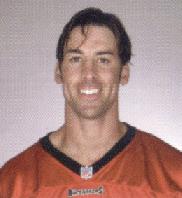 9) Rob Johnson. His entire career. Which was like 20 minutes of playtime in Buffalo.
Ugh. Just thinking about him makes me cringe.
From the start here in Buffalo, things just never seemed to add up... but, this was still the time when we all had faith in the Bills management, so we trusted John "Bubblechin" Butler (RIP) making this trade.
The Bills traded their 1st round pick (9th overall, or close to that) and 4th round pick for Robert. Note that Robert himself was only a 4th round pick, and his only notable NFL experience was a strong EXHIBITION game for Jacksonville. Now, the Bills were desperate for QB... it was a few years since Kelly, and horror of the Todd Collins experiment still lingered in our brains... but, this just didn't add up. Plus, we're giving this asshole a 5-year, $25 million deal, and it would cripple Buffalo capwise in the future.
But, whatever, HE COULDN'T BE WORSE THAN TODD "DEER IN HEADLIGHTS" COLLINS!!!
Oh, I didn't mention that 1st round pick for Jacksonville ended up being Fred Taylor. While the Bills had Antowain Smith, and some other jackasses at RB. But, again, whatever.
As for Robert's career... well, there wasn't much of it. He was 7-14 as a starter, while lifetime little backup scrub Doug Flutie was 21-9 with basically the same team. He got totally overshadowed by Doug Fucking Flutie. When you're infinitely more annoying than Flutie Flakes, you really need to lock yourself in some basement, far away from humanity. And in those 7 wins, I'll bet he had a "concussion" in about 5 of those. The fragile surfer boi managed to get hurt every fucking game. And he was the master of simply standing in the pocket while getting sacked 10+ a game, while blaming his offensive line for every loss. Rob was slick in his press conferences, also... managing lots of uh's, and even the occasional duh.
But, Robert teaches us all an important lesson in life...
If you can somehow bullshit stupid people into giving you many millions of dollars, it doesn't really matter after that. Screw everyone over. The world is yours.
Someday, I will do what Rob did.